This article covers:
How to create a Quiz?

How to add quiz questions?

How to select pace and save your Quiz?

How to edit or duplicate your Quiz?
How to create a Quiz?
1. To start creating a Quiz session, you must first create a Pigeonhole event. Then, , go to the 'Agenda', and click on Add session > Create new.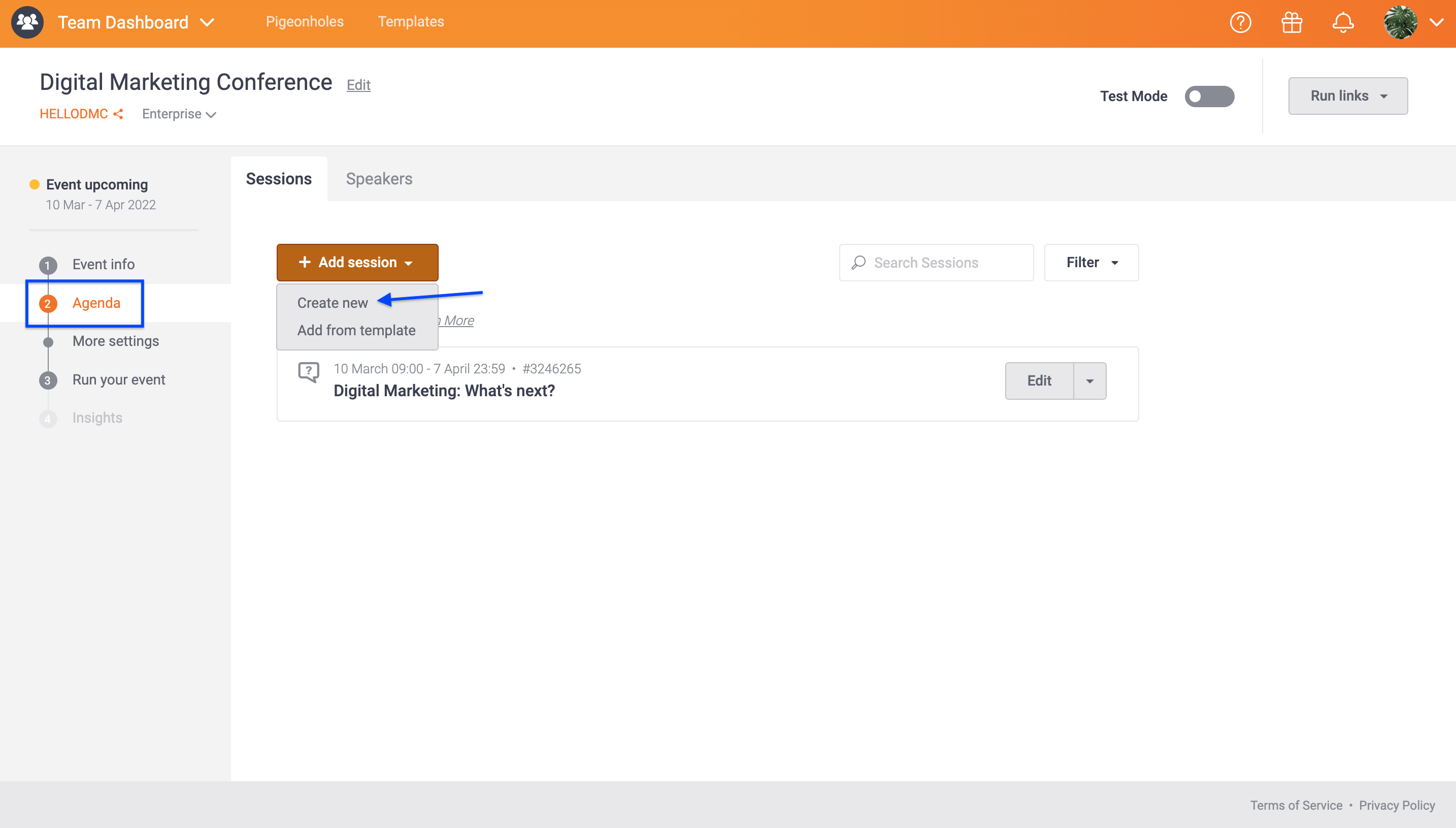 2. Under 'Session Type', choose Poll: Quiz.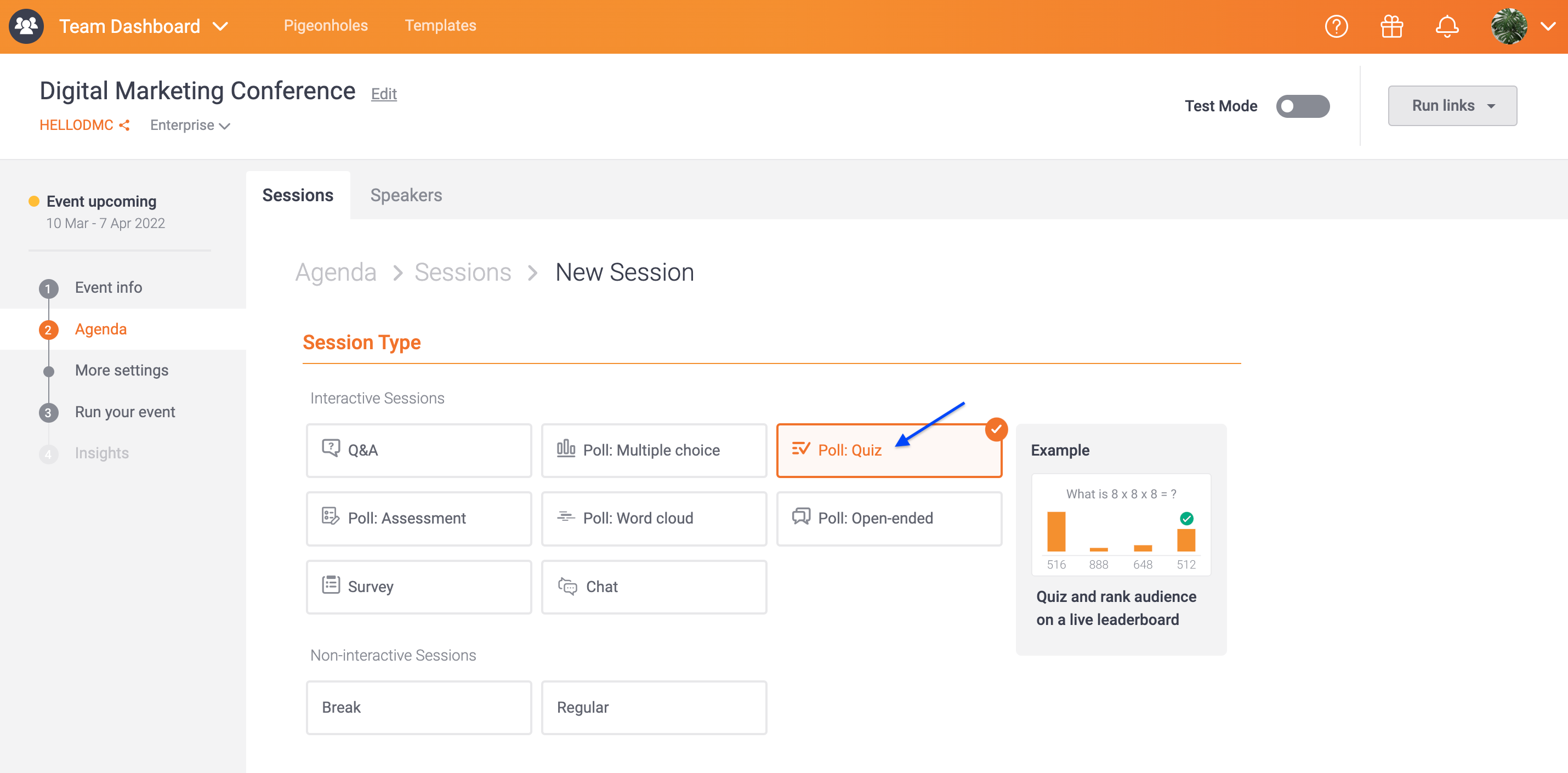 3. Under 'Quiz Agenda Information', you can type in your Session Name. The Session Name will be your Quiz session title.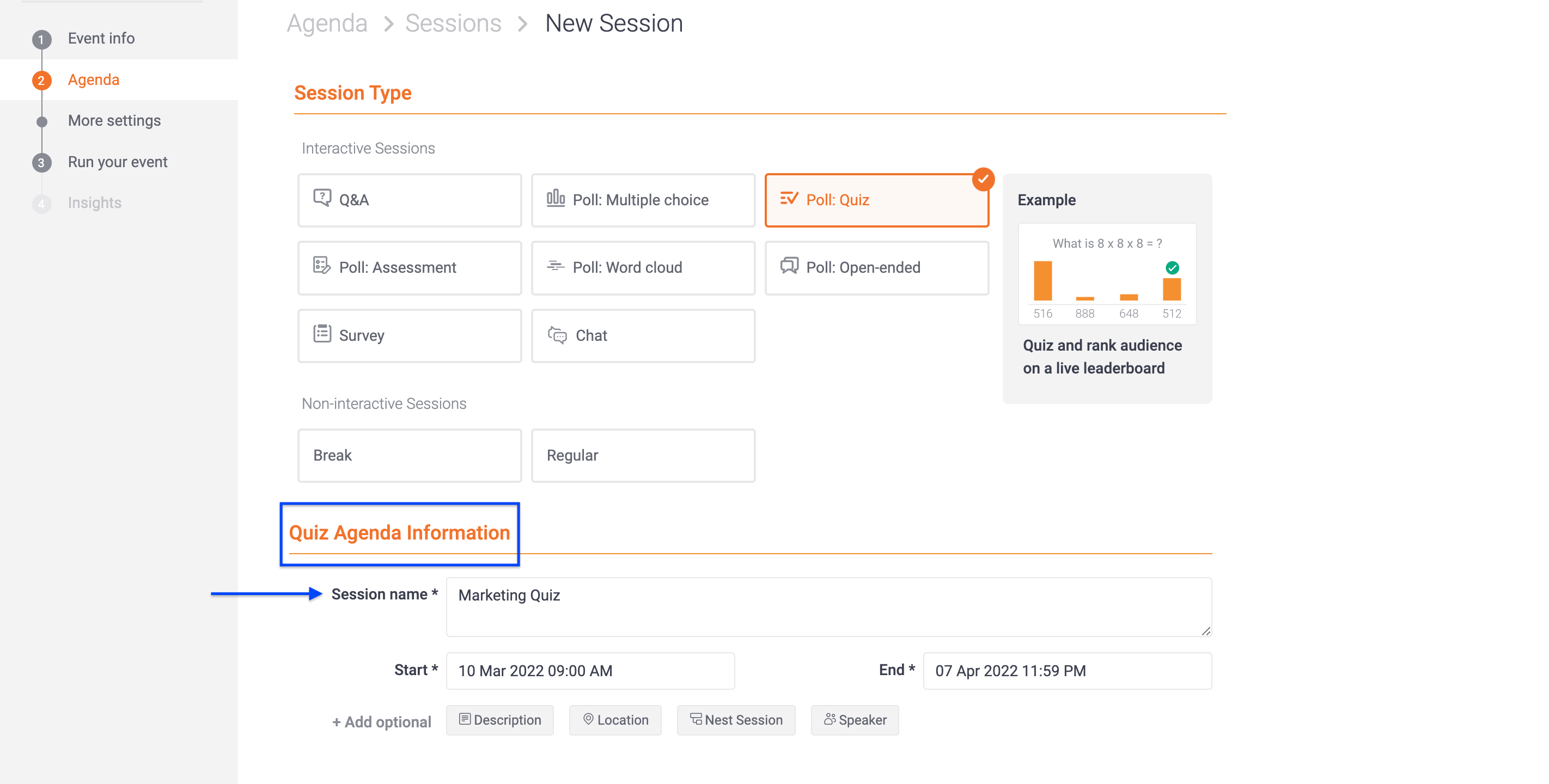 Here's how the Quiz session title will appear in the Audience Web App.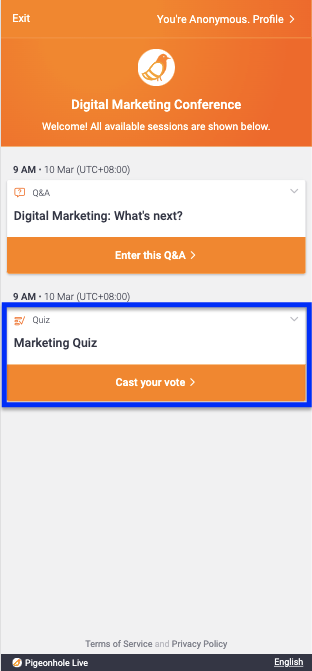 You can also choose to nest the quiz under different sessions.
Add Quiz questions
Next, add your Quiz questions, followed by a set of multiple choice answer options. You'll need to input at least two options for each question and mark only one correct answer.
1. Scroll down to 'Quiz Questions' and click on the + Add question button to input your questions.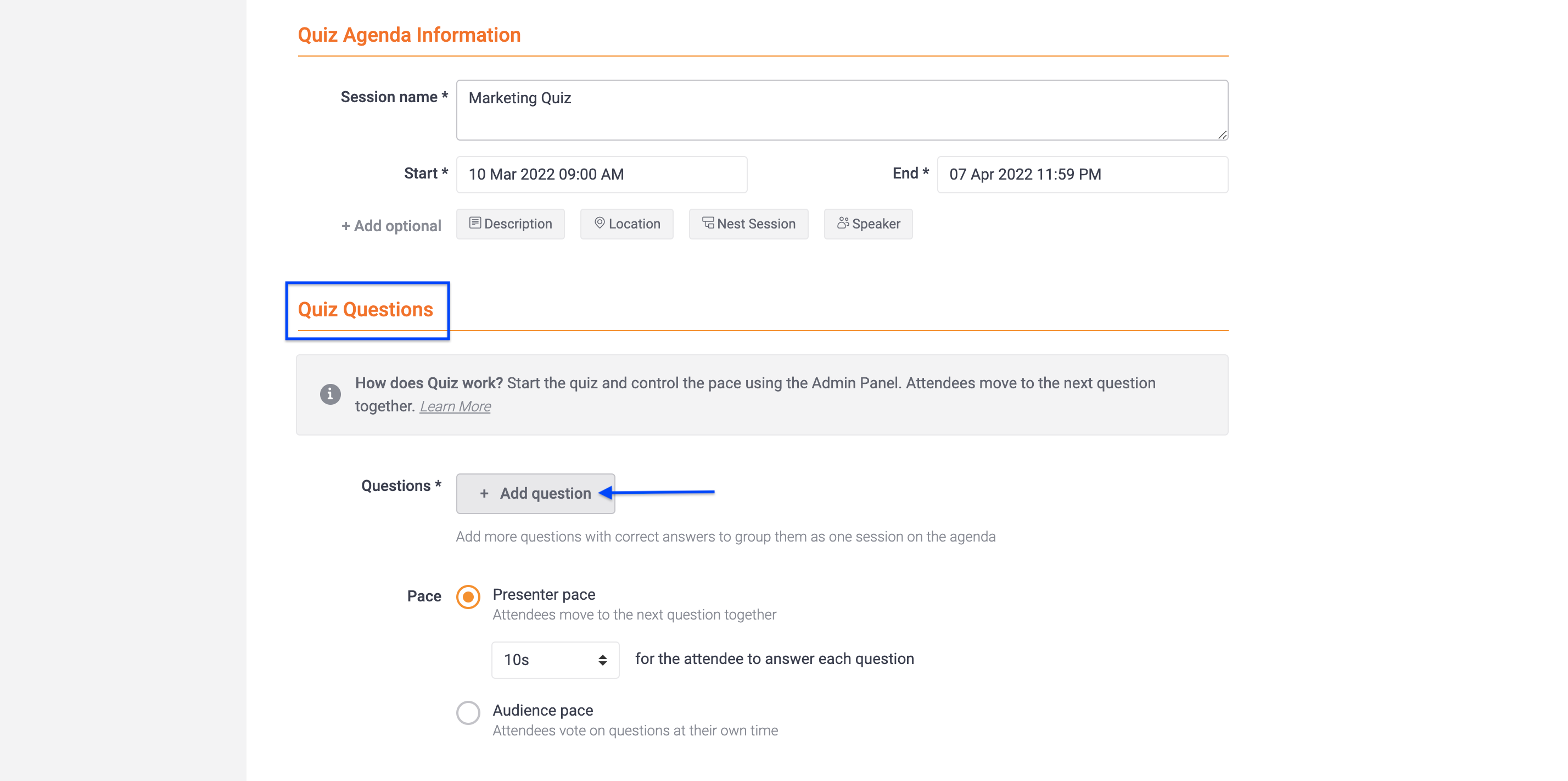 2. A pop-up will appear where you can type your question in 'Poll question' and add your answers under 'Answer Options'.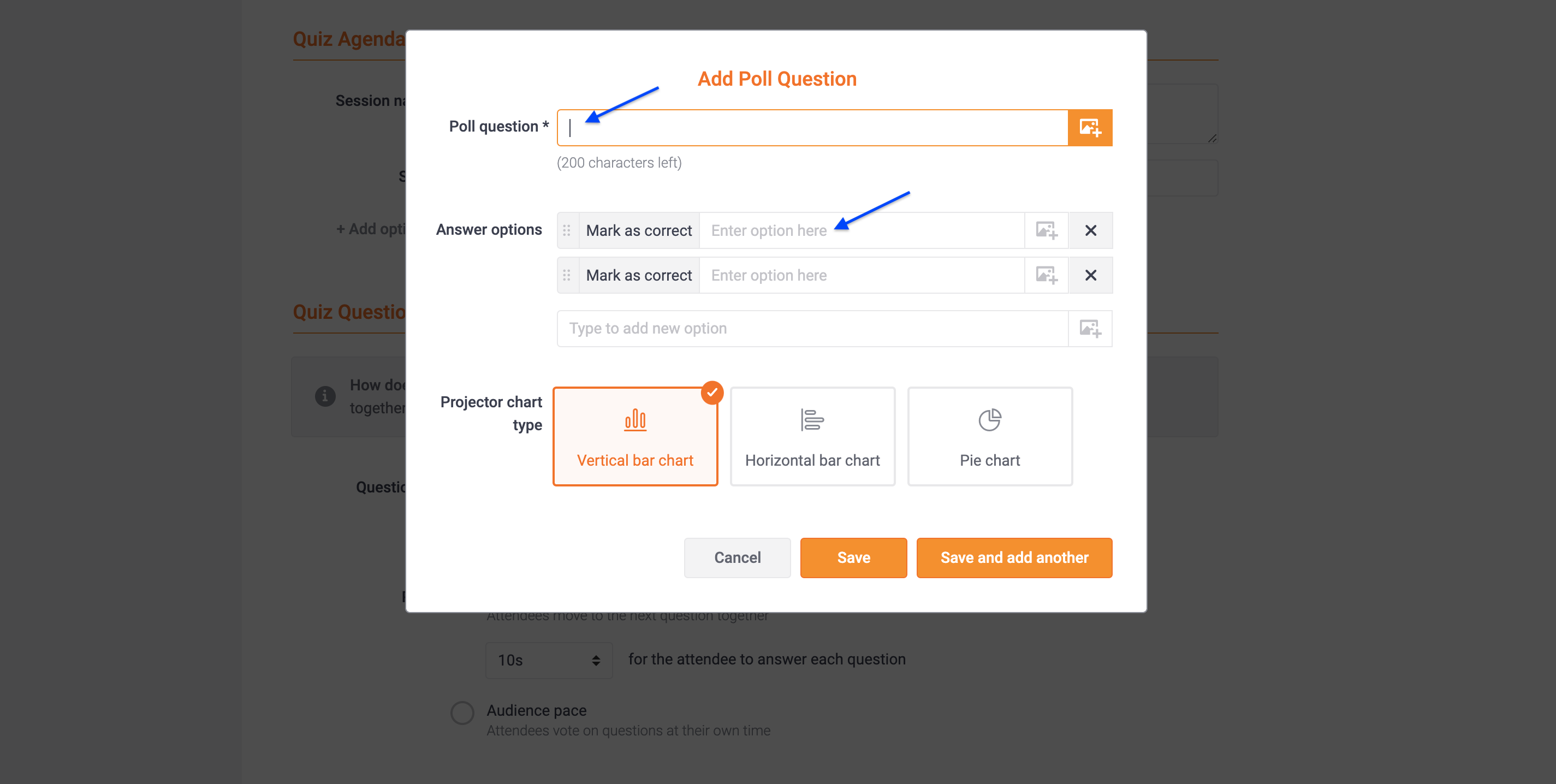 3. Once you have added all your 'Answer Options', do remember to click on the 'Mark as correct' button to enable 1 correct answer for the question.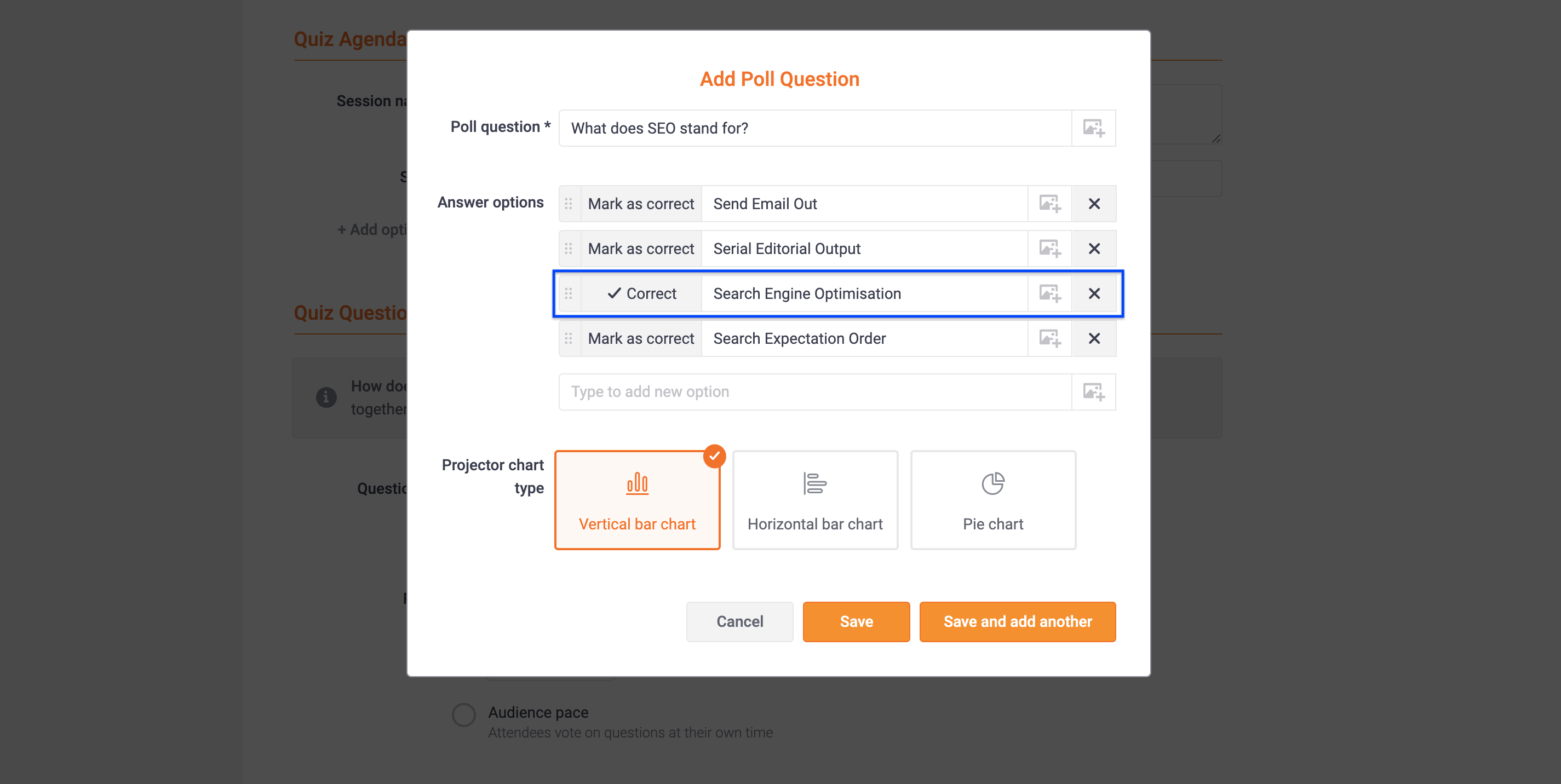 Note: You will see an error message if you did not select a correct answer for the question before clicking Save.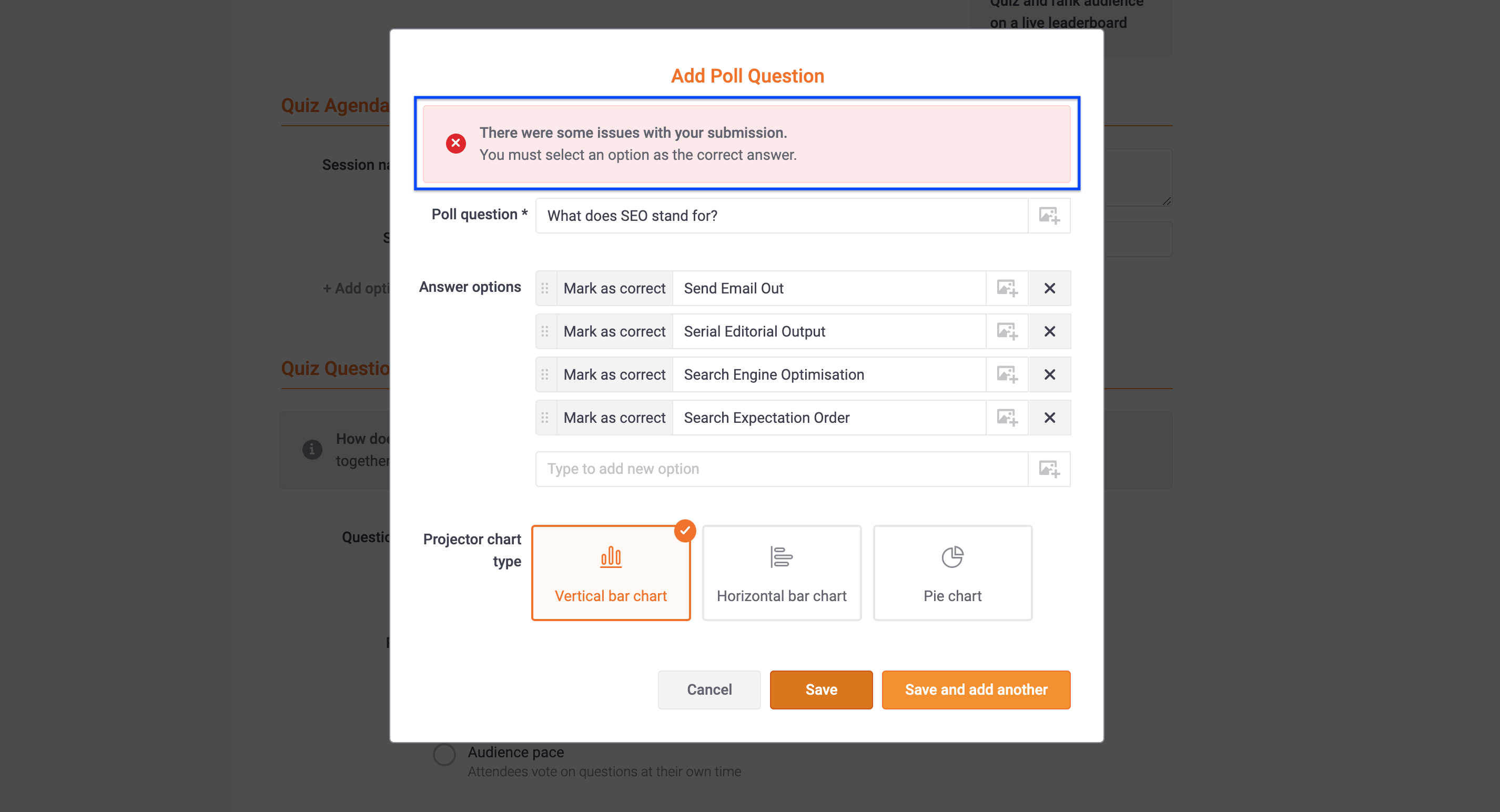 4. The default 'Projector chart type' is Vertical bar chart. There are 3 different chart types to choose from: Vertical chart, Horizontal chart or Pie Chart. You can only choose 1 for each question.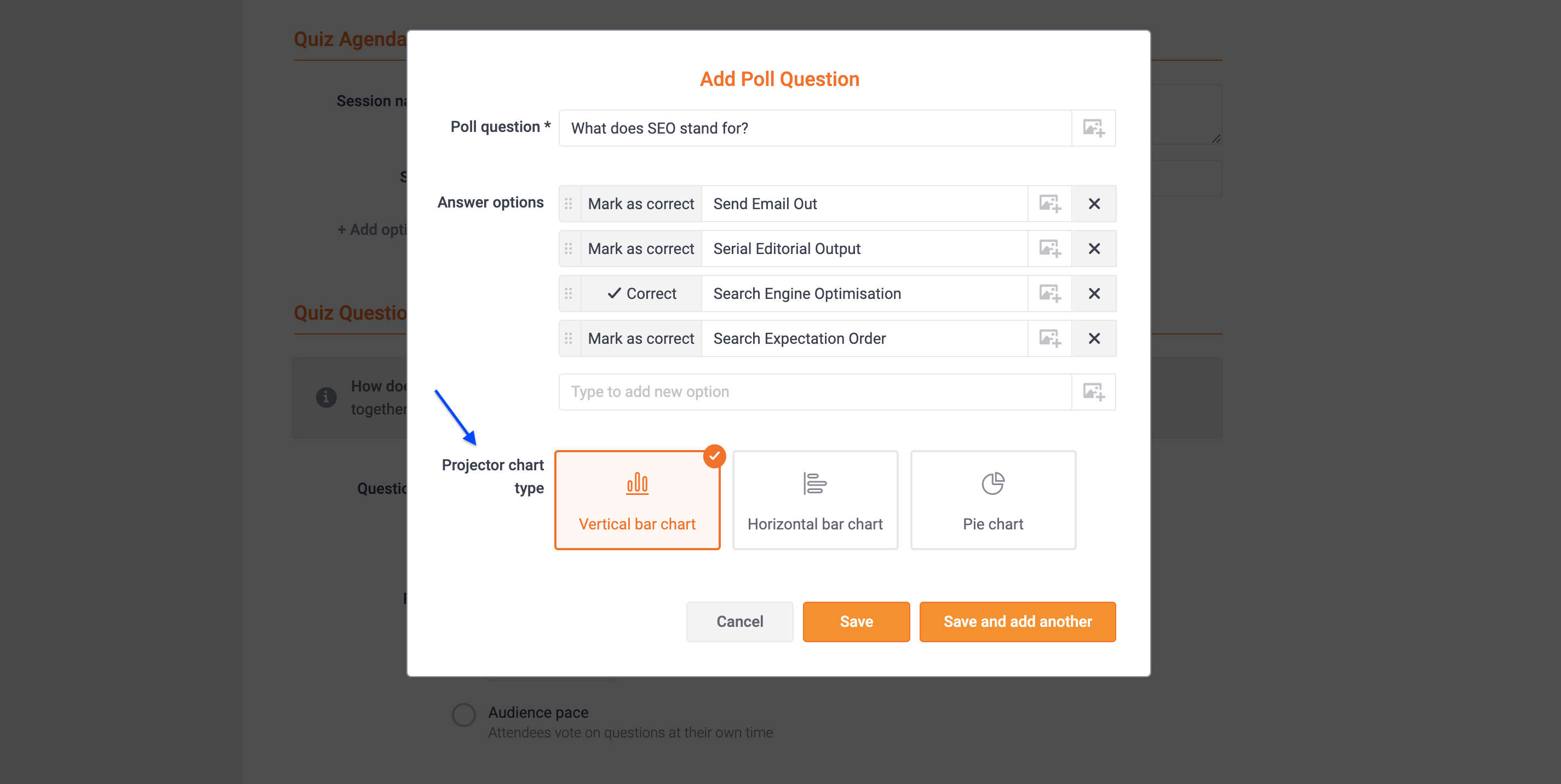 5. Once you have confirmed all the details, click Save and add another to add another question or simply click Save to save the questions you've added.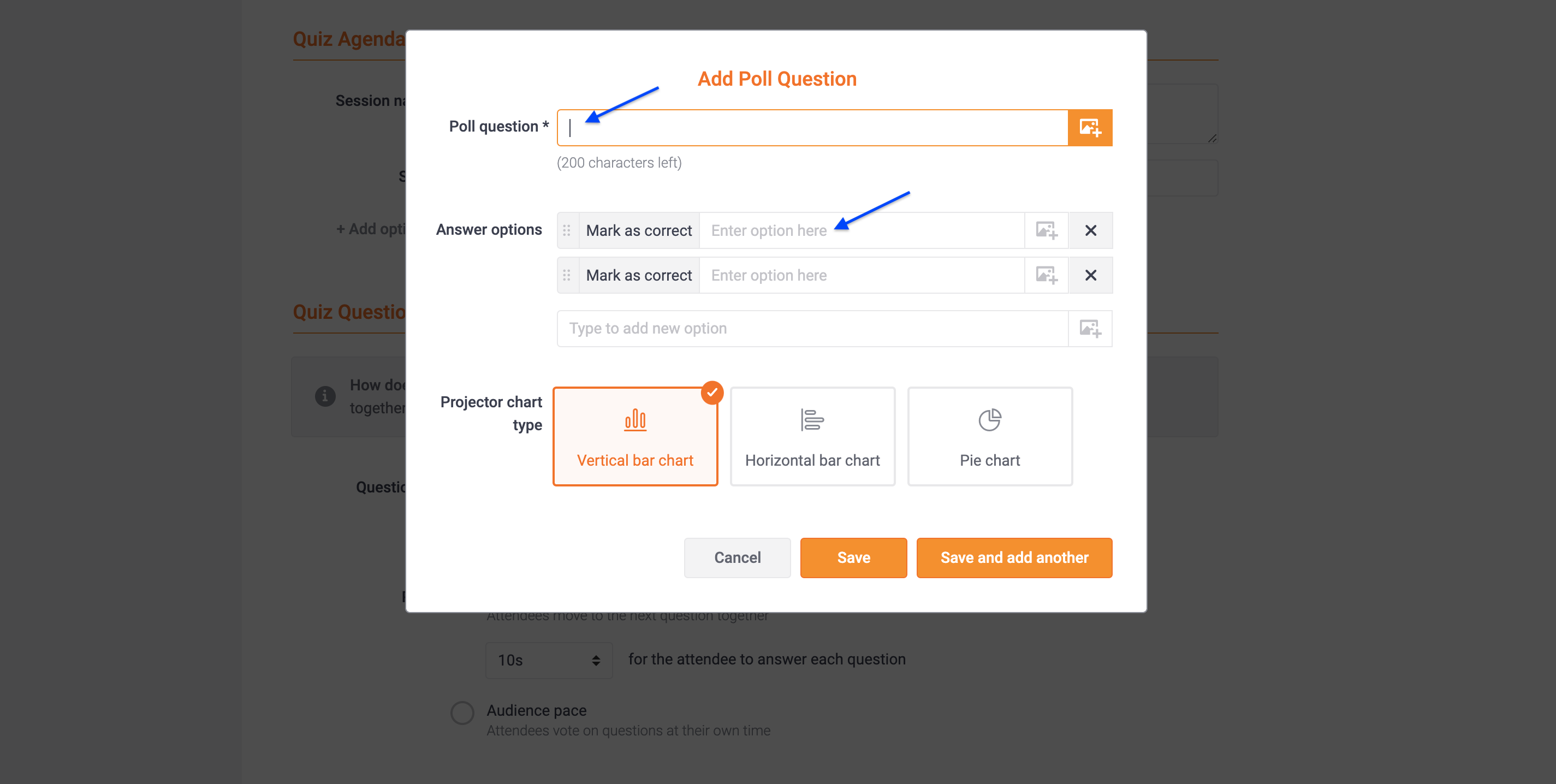 All the questions you've added will appear under the 'Quiz Questions' section.

6. To add more questions, click on +Add question and repeat steps 1 - 5.

Select Quiz pace and Save your Quiz
Under Quiz Questions, you can choose between presenter pace and audience pace for your Quiz session. This enables you to select the way you would like to run the Quiz session.
1. The 3 types of paces are presenter pace with timer, presenter pace without timer, and audience pace.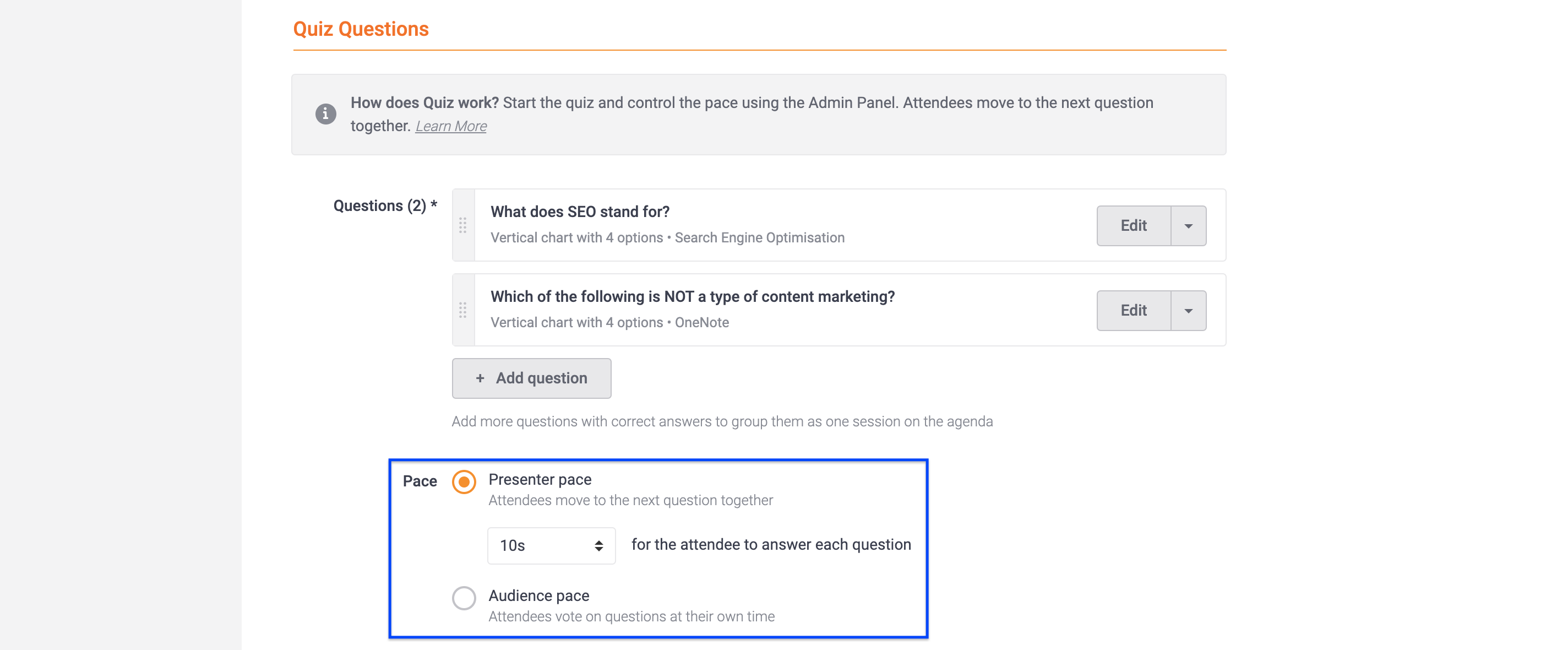 2. Once you have selected your preferred Quiz pace, remember to click Save Quiz to save!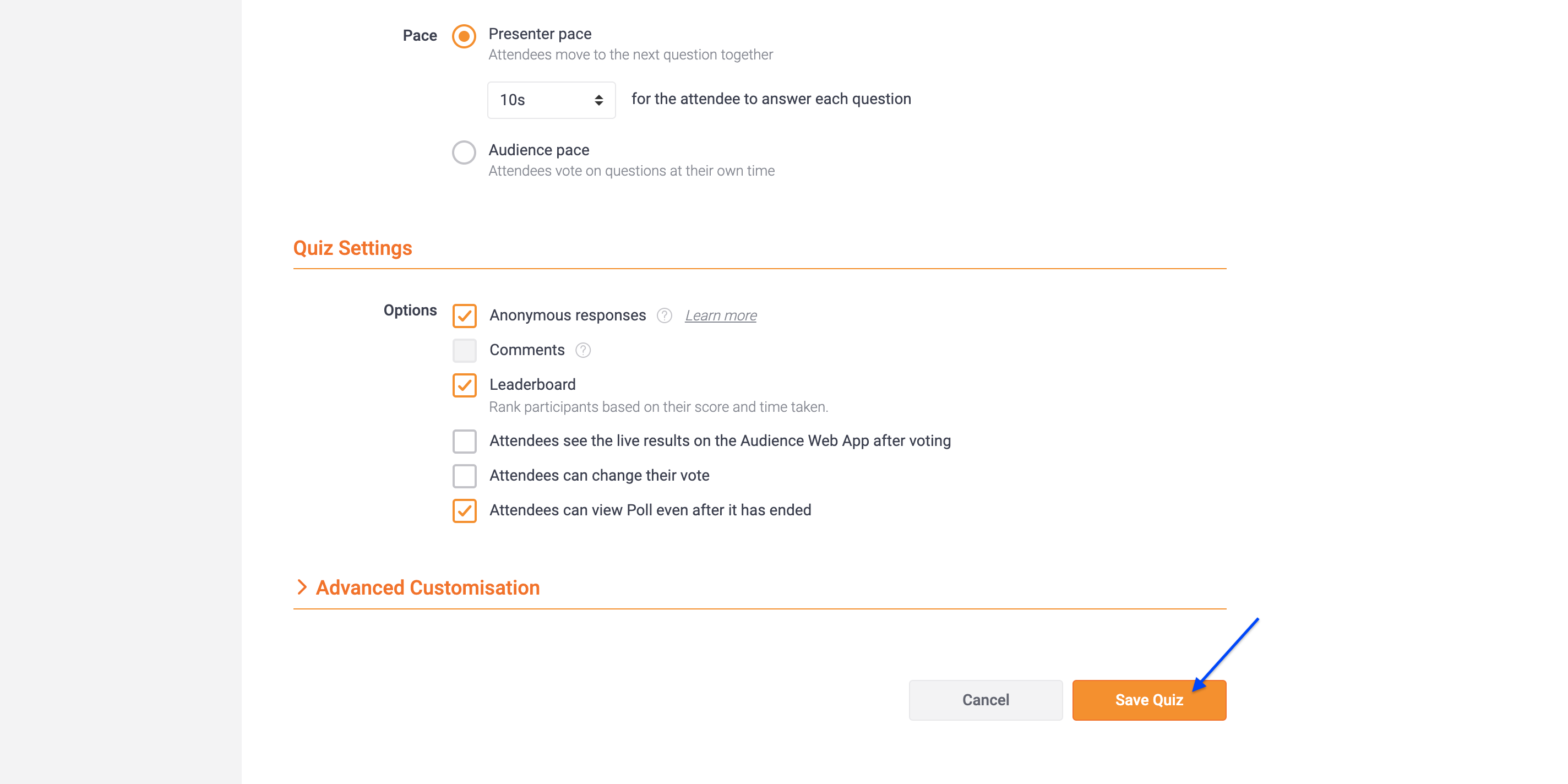 3. After saving your Quiz session, it will appear in the 'Agenda' page under 'Sessions'.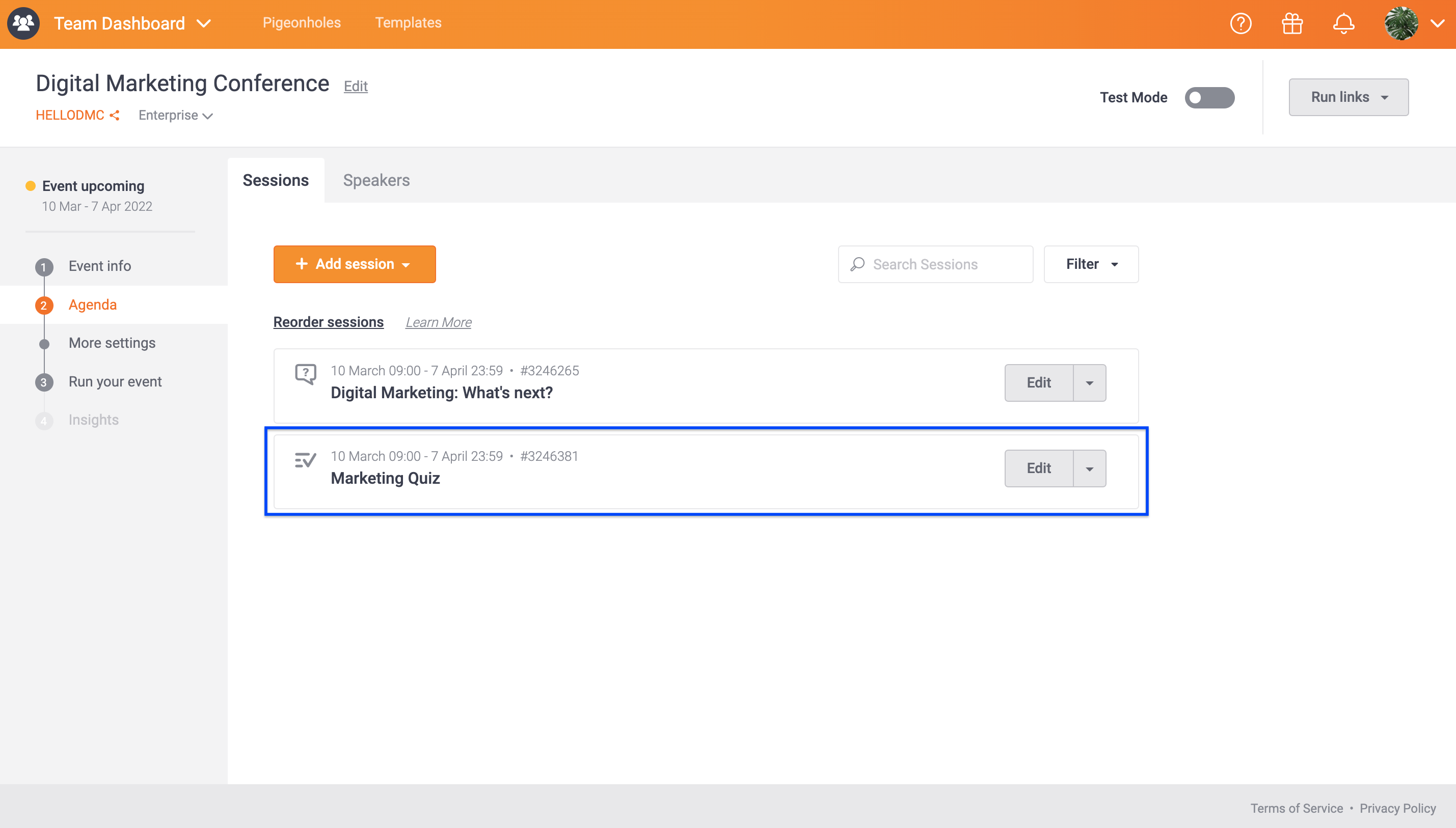 To edit or duplicate the Quiz
1. To edit your Quiz, click on the Edit button.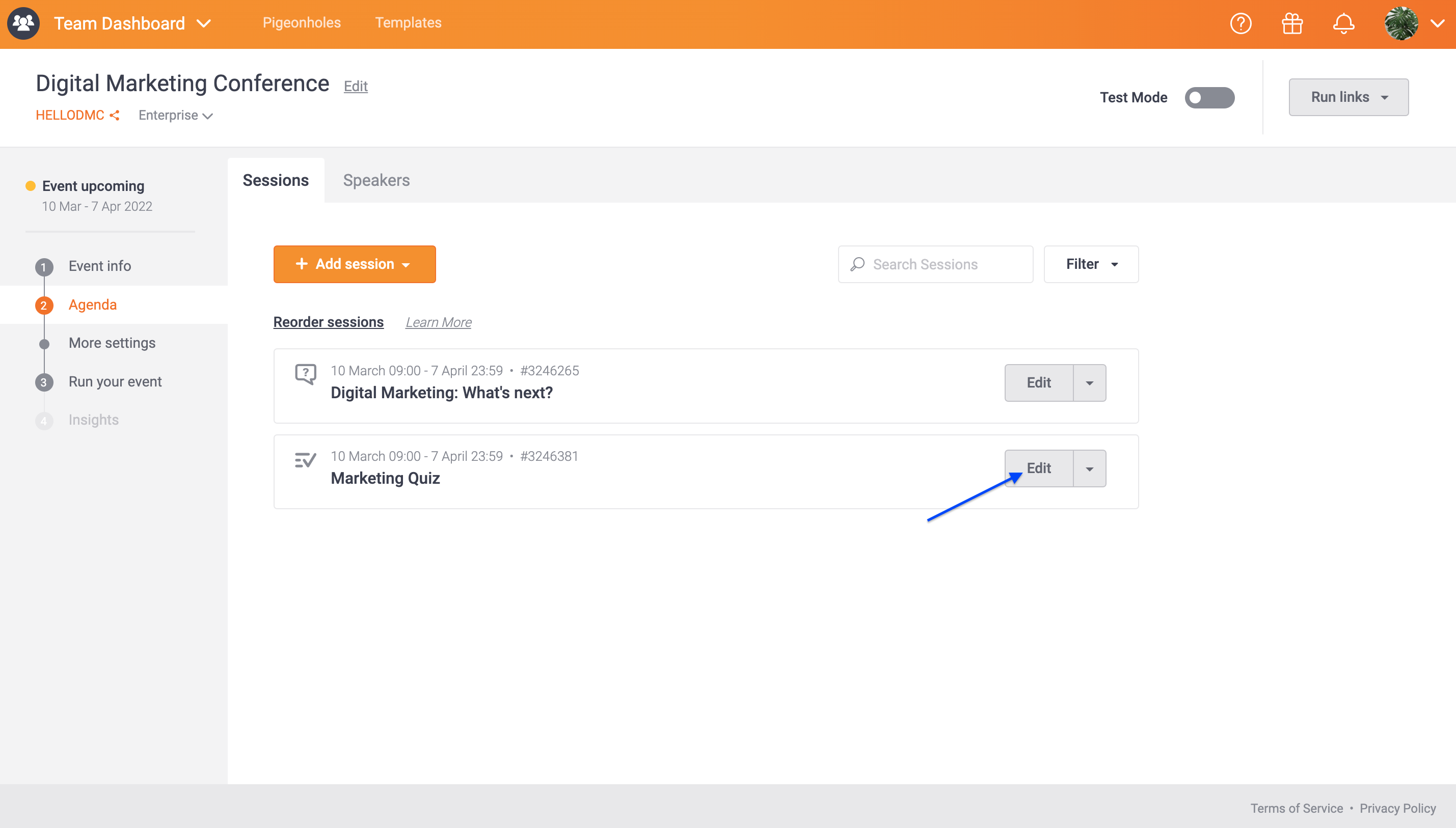 2. If your event consists of multiple sessions, you can save time by simply duplicating your sessions and customising the necessary details. To duplicate your Quiz session, click on the dropdown menu > Duplicate.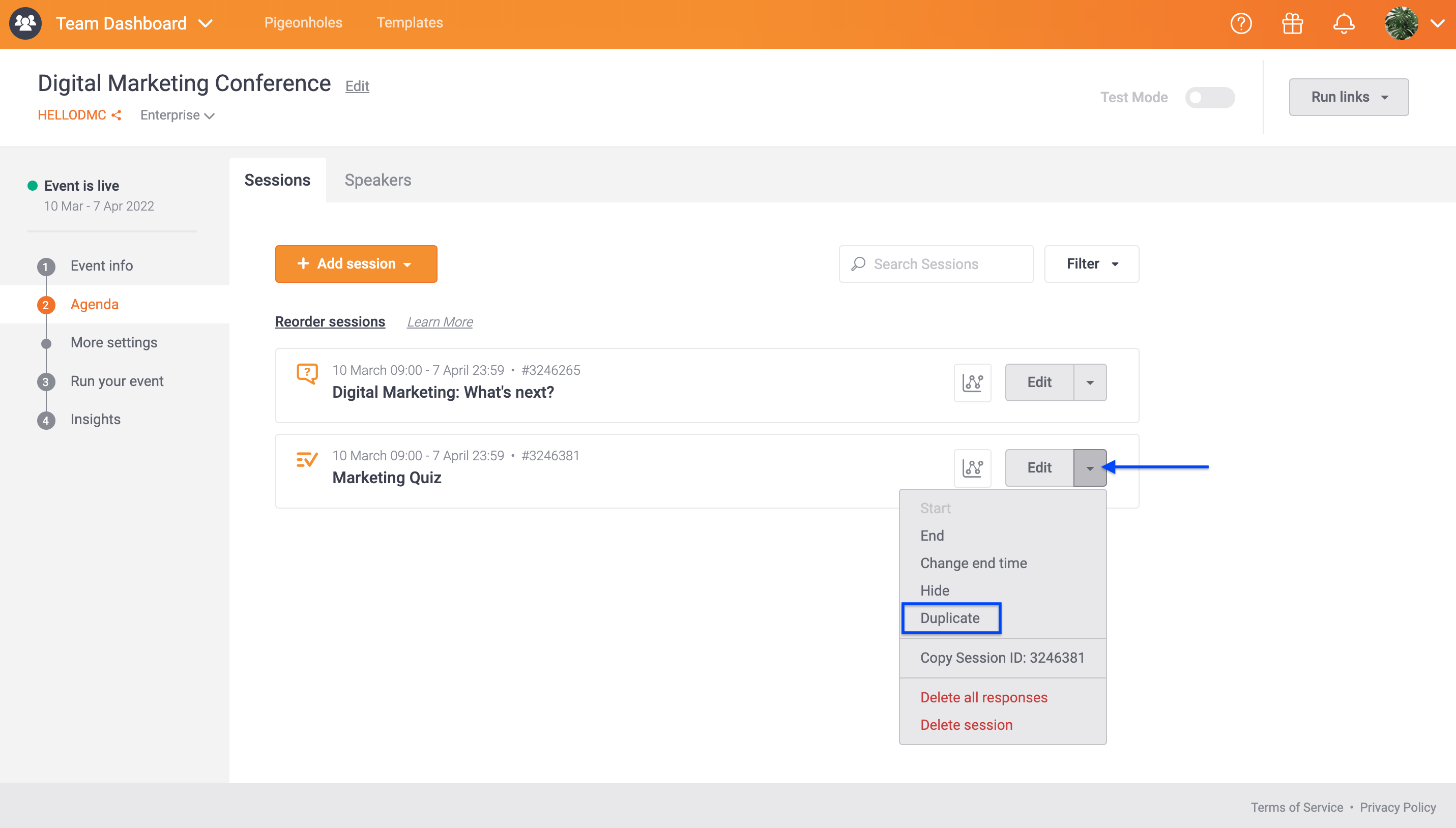 Test run your Quiz session.
To test your setup, you can use Test Mode. Click on Run your Event > toggle the slider bar button to enable 'Test Mode'.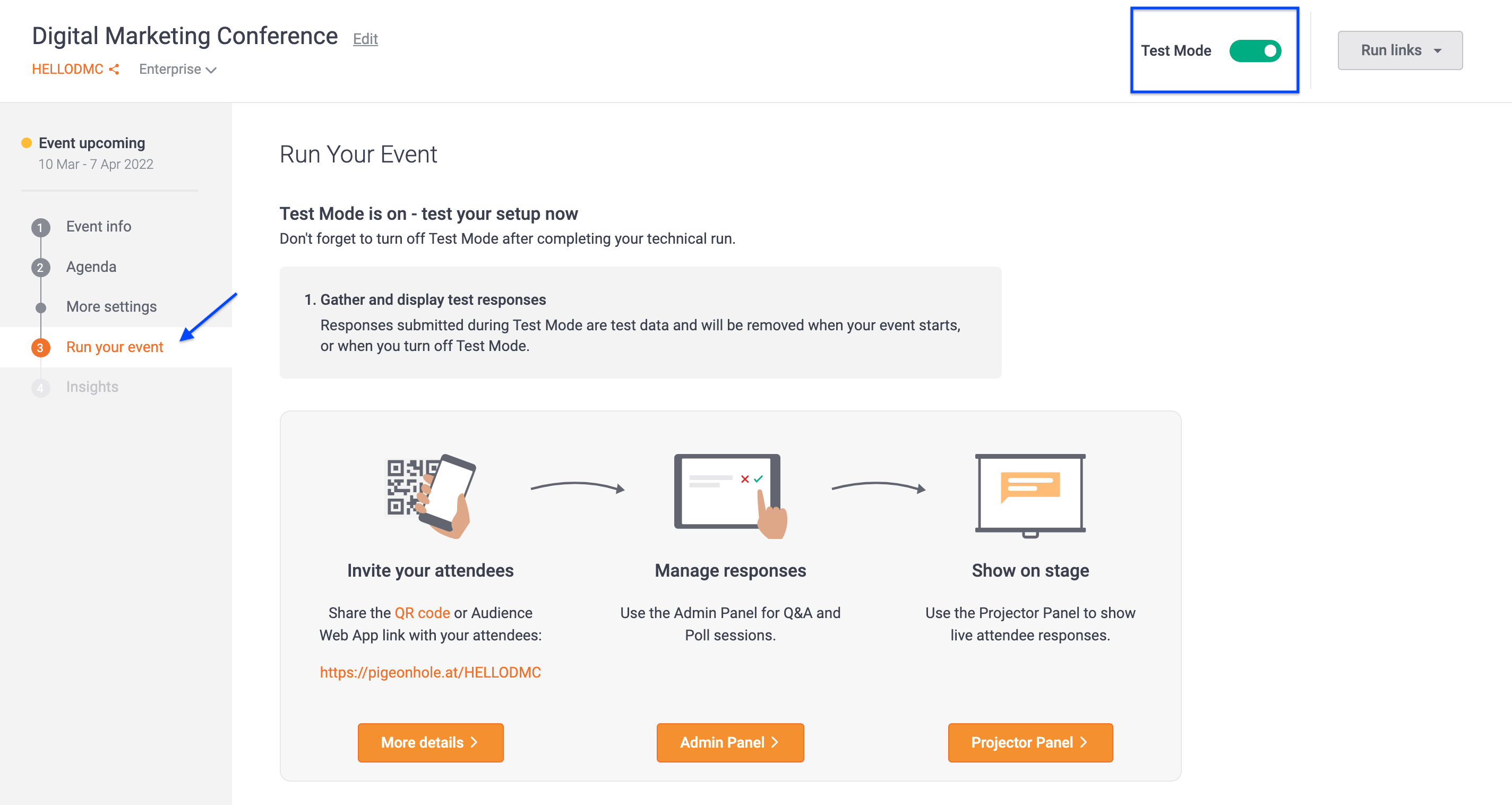 Once the Test Mode is enabled, you can open the Audience Web App and Projector Panel to view it from the perspective of your audience.
You can practise running your quiz as an organiser with the Admin or Moderator Panel. The responses submitted during the test mode will not be included in the quiz results and insights.