Available for:
Basic
Engage
Captivate
Pro
Business
Enterprise (Meetings)
Enterprise (Events)
This article covers:
How to add Pigeonhole Live to meetings hosted on Webex?
Features to note when using Pigeonhole Live on Webex
If you use Webex Meetings to run your virtual meetings, you can easily add Pigeonhole Live's Audience Web App to the meeting to give your attendees a seamless audience engagement experience. This integration is supported for Webex Meetings and Events on Desktop (Windows and Mac) only.
You can use the full suite of Pigeonhole Live features in this integration.
*Please note that you will be subject to the meeting capacity imposed by Webex Meetings when using this integration.
How to add Pigeonhole Live to meetings hosted on Webex?
1. Once you have set up your meeting on Webex, go to the toolbar menu at the top of the page and click on Share.
2. Then, select Share Multimedia in the dropdown menu.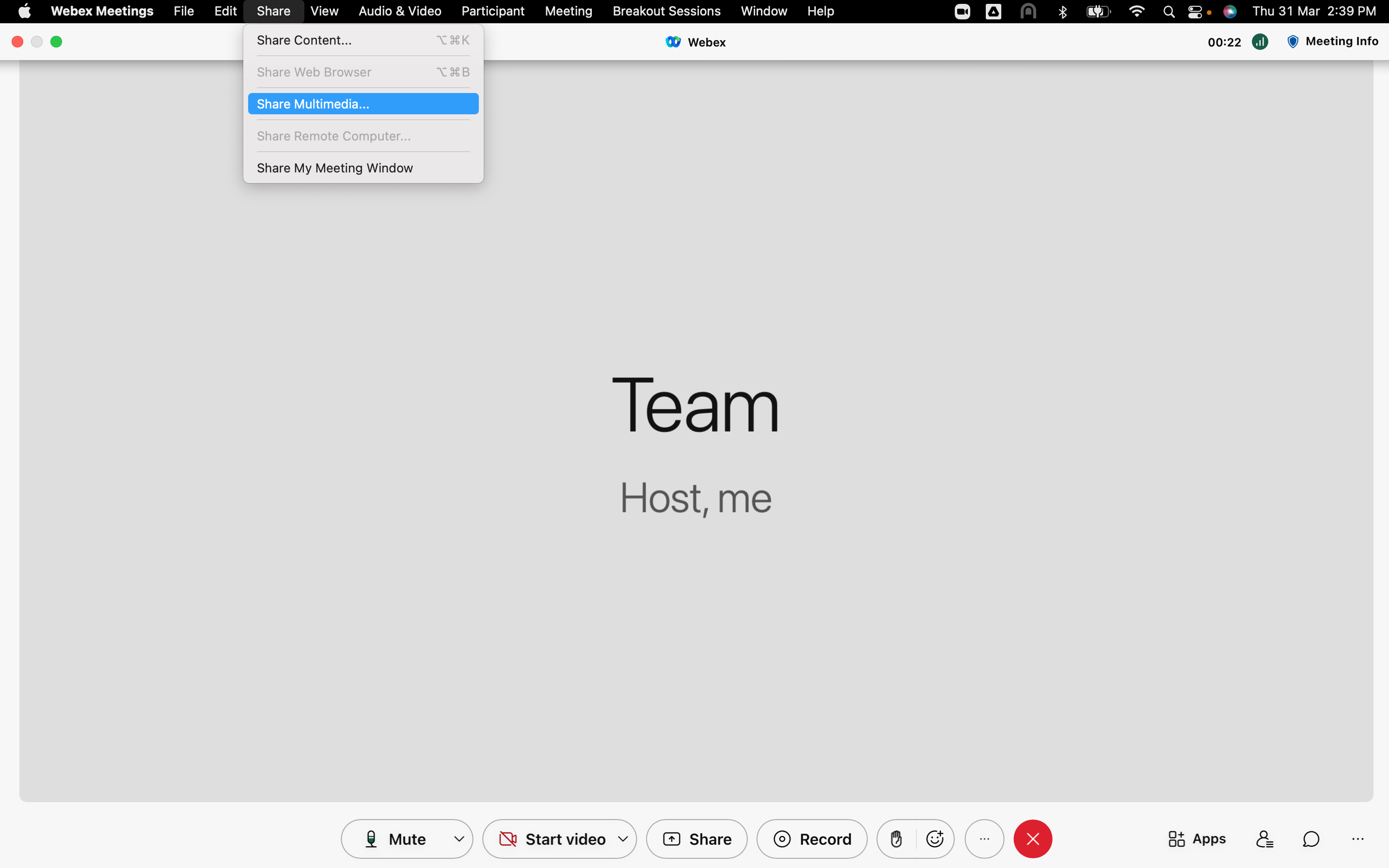 Note: If the Share Multimedia option is not enabled, you need to update your settings to allow multimedia sharing.
3. Enter your Pigeonhole or specific session URL in the field and select OK.
Learn how you can obtain your Pigeonhole or session URL here.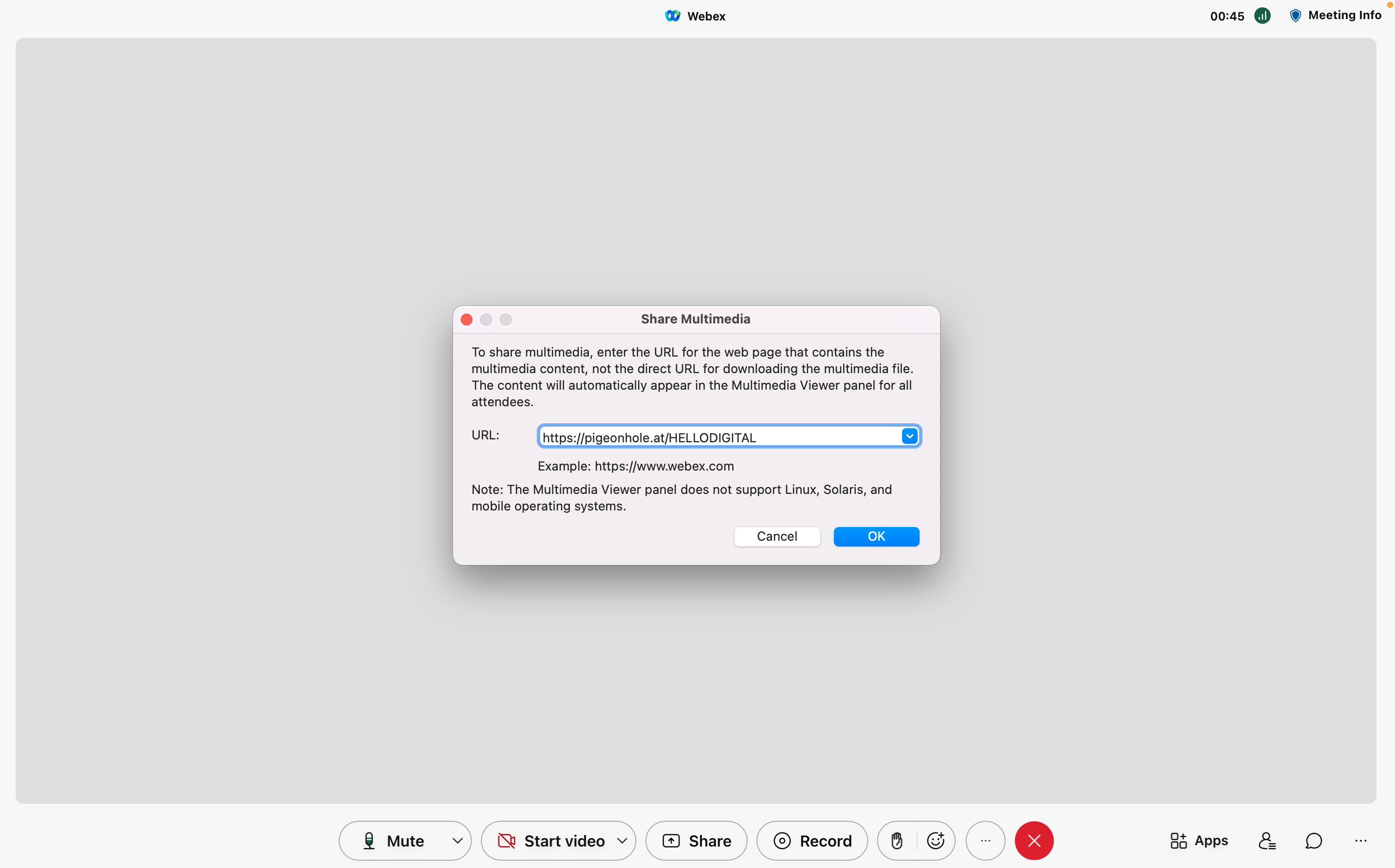 4. The Audience Web App will appear in the Multimedia Viewer panel as shown below.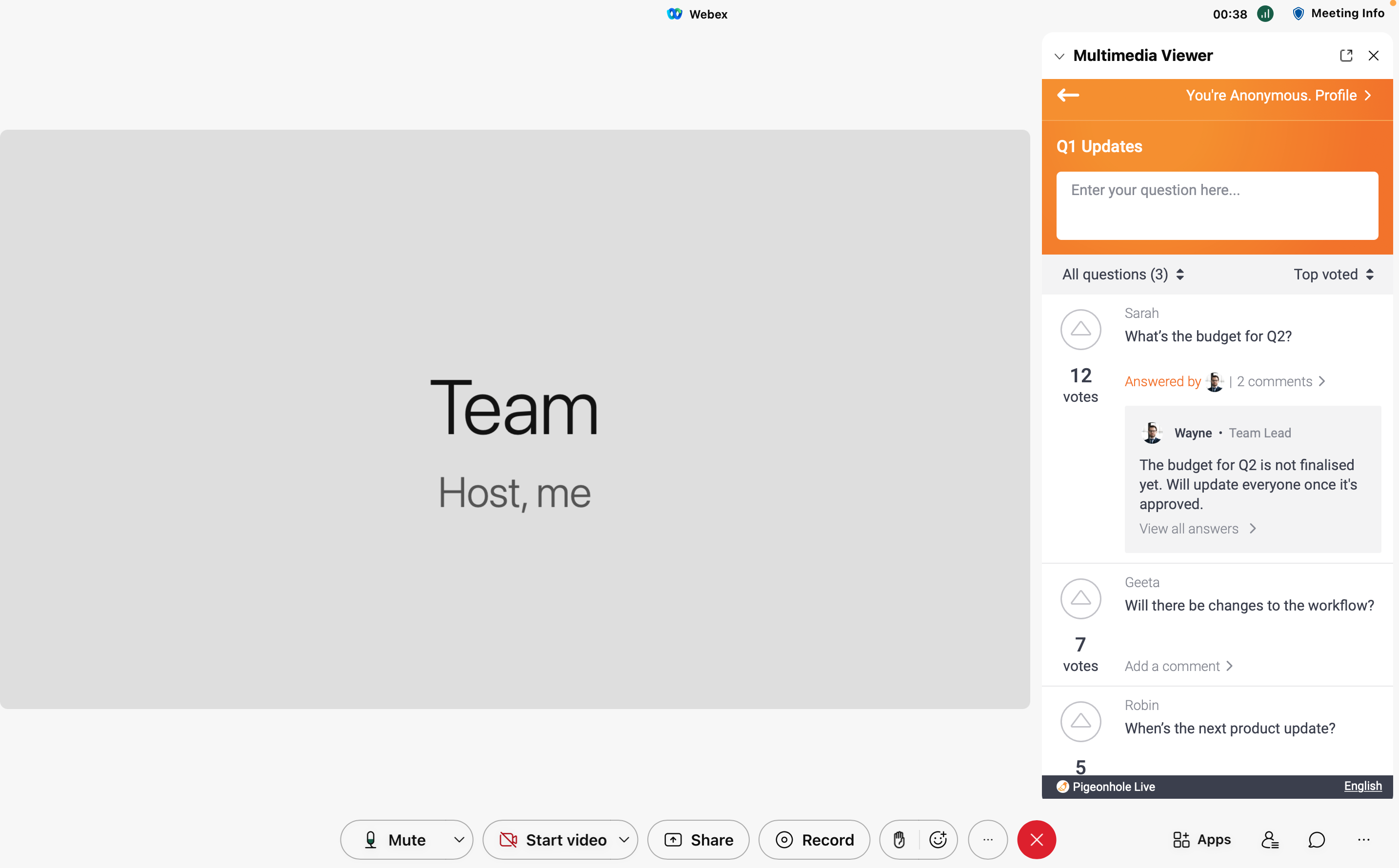 Note: If attendees are signed-in on Webex, they will still appear as anonymous on Pigeonhole Live.
Features to note when using Pigeonhole Live on Webex
1. Q&A
Use Pigeonhole Live's Q&A to crowdsource questions from your attendees during your remote meetings. Your attendees can submit and vote on questions while watching the live video within the same window.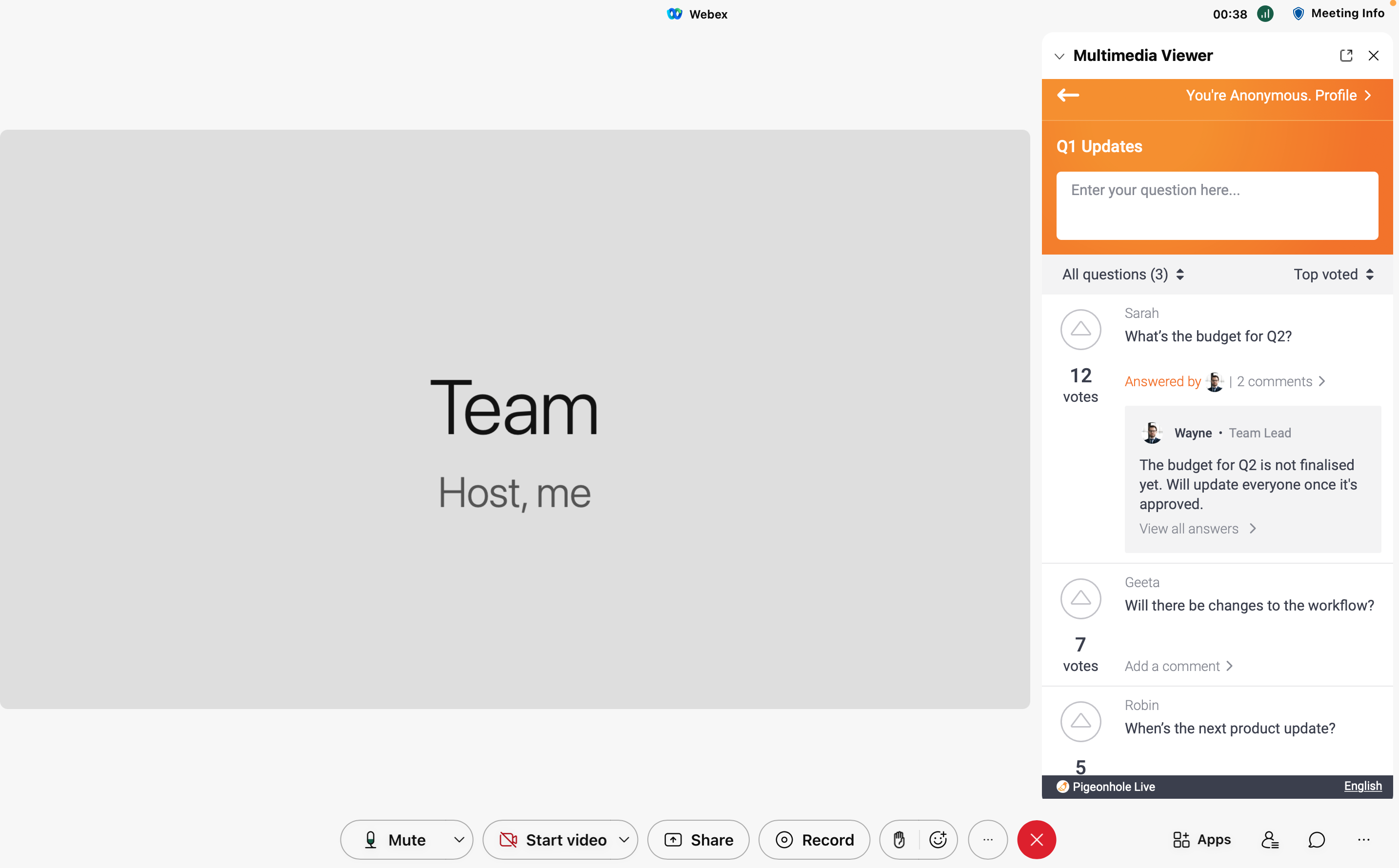 2. Polls
Pigeonhole Live offers 5 different poll-types: Multiple-choice, Open-ended, Word Cloud, Quiz and Assessment, that you can use to engage attendees, get consensus on decisions, or brainstorm ideas during a meeting.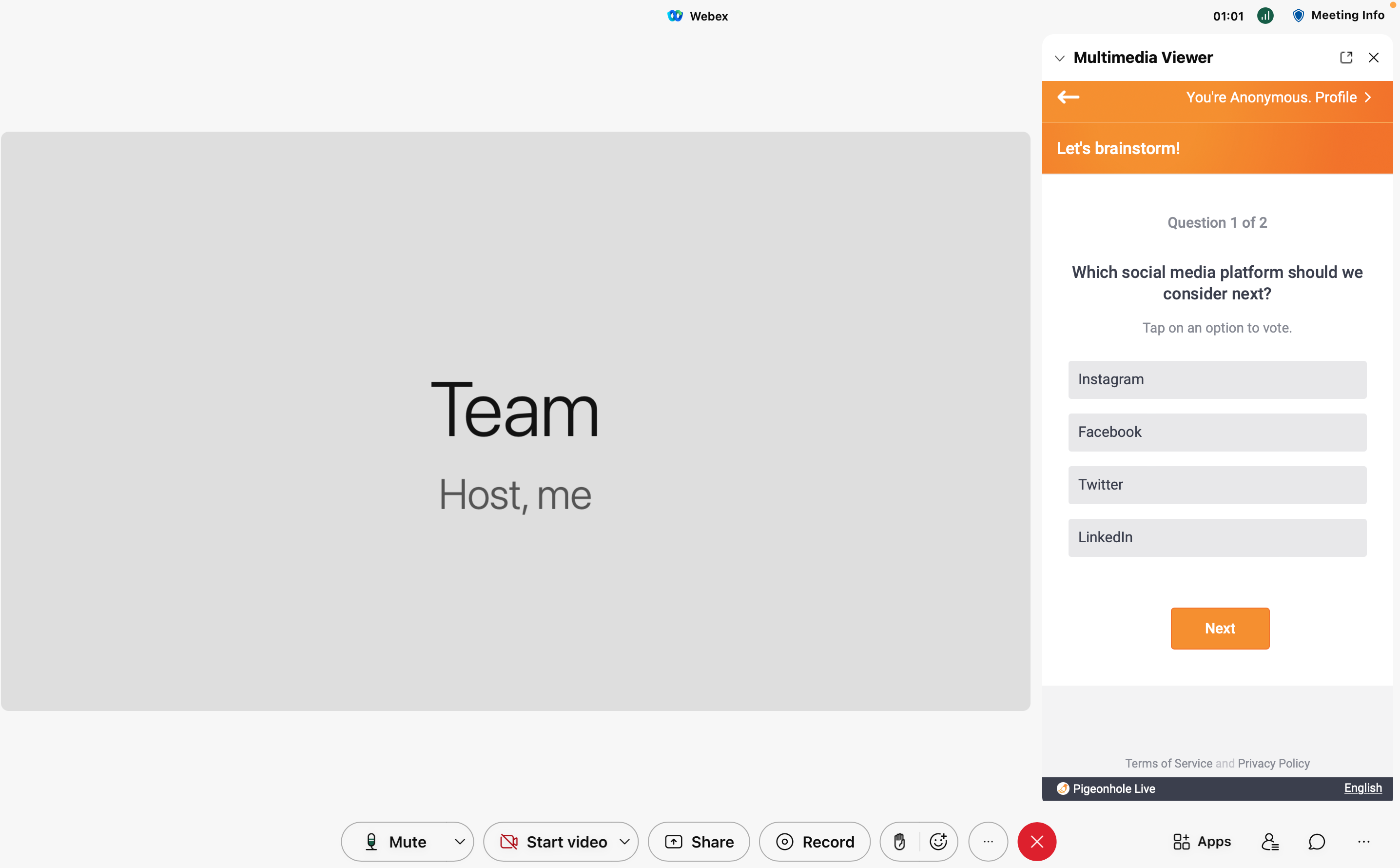 3. Announcements
Use Announcements to keep your attendees informed during the meeting or direct them to a Poll, Q&A or Survey. Learn how to create and send announcements here.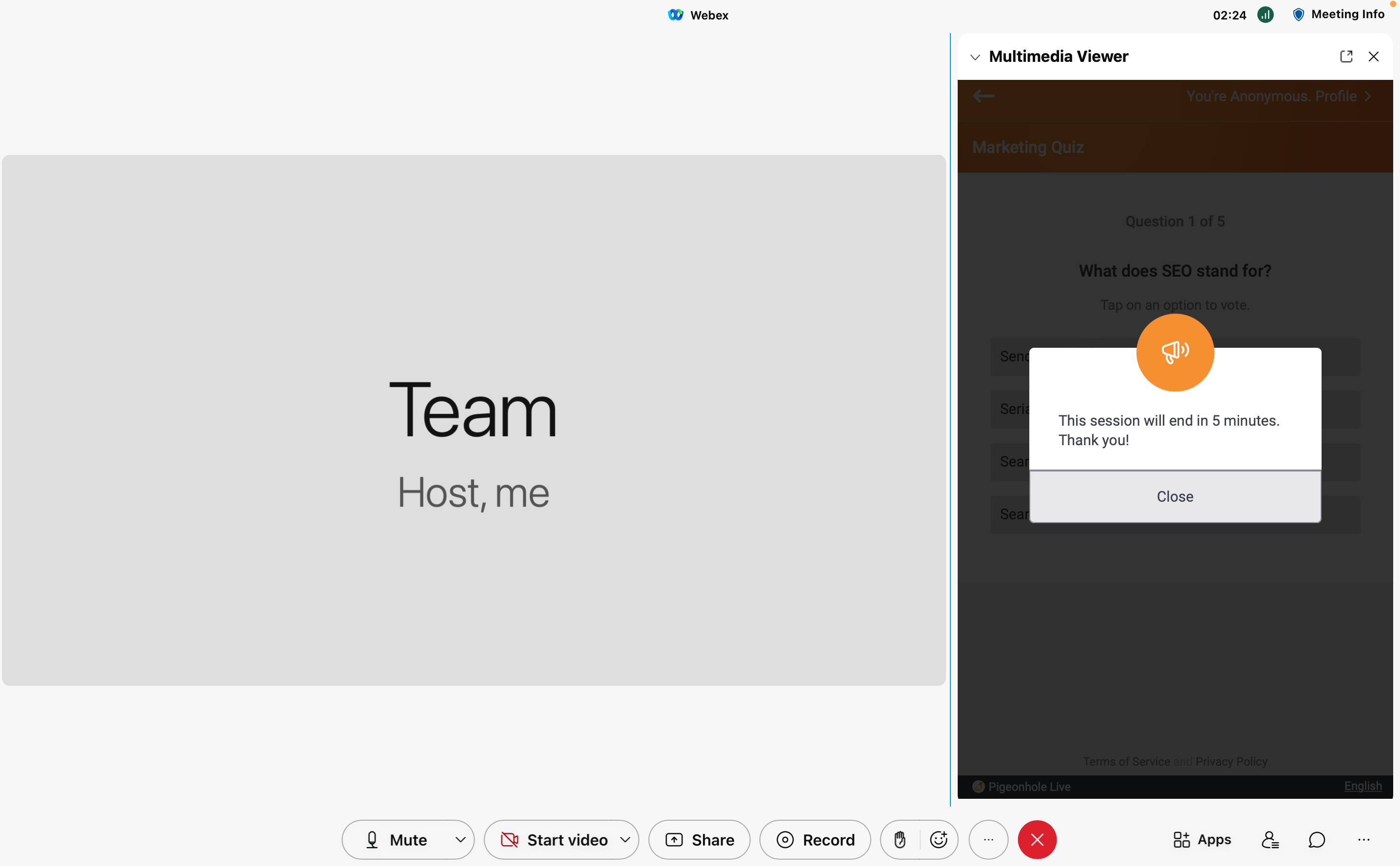 4. Comments/Answers/Admin Replies
Allow your attendees to engage in conversations in the comments section. You can also use the Answers feature to submit verified answers from the speaker/admin or use our Admin Replies feature to send direct replies to specific attendees.