Quiz Leaderboard allows you to test your participants' knowledge with a series of correct-answer polls and rank them on overall performance based on the speed and accuracy of their answers.
To enable Leaderboard for your quiz: 
1. Go to Pigeonhole > Agenda > Poll session> Select Quiz. 
2. Click + Add Question. Type your question. 
3. Select Presenter Pace.
To run the quiz without timer, simply select No time limit on the drop-down menu. This gives the presenter complete control to select when participants proceed to the next quiz question.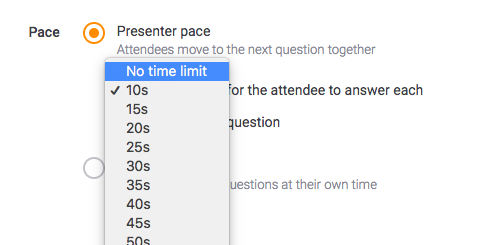 To run the quiz with timer, select your desired amount of time on the drop-down menu. This option would set a countdown clock for each question and automatically proceed to the next question when the time is up.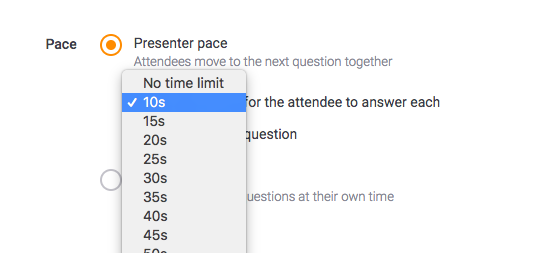 Leaderboard is only available in Presenter Pace. 
4. Under Advanced Settings, select Leaderboard.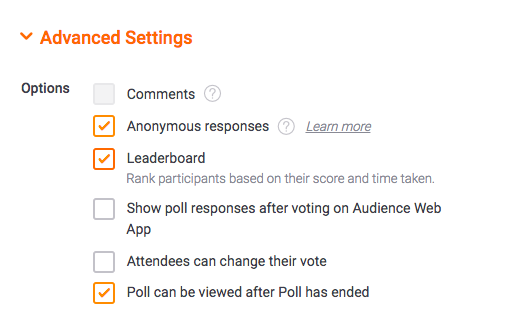 5. Select Add Poll. 
Participating in the quiz
1. The anonymous responses box is selected by default when you are setting up. 
Audience will see the page below on the Audience Web App when they join the quiz. A random "Play as" name will be auto-generated.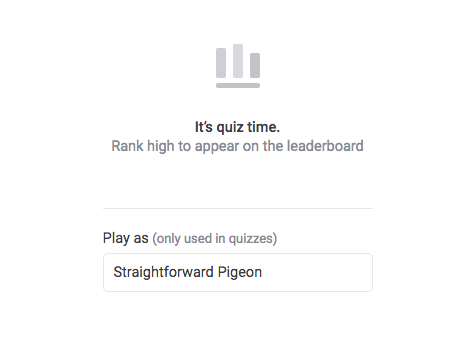 The "play as" can be customised to any desired name. Click on the name field, edit and click save.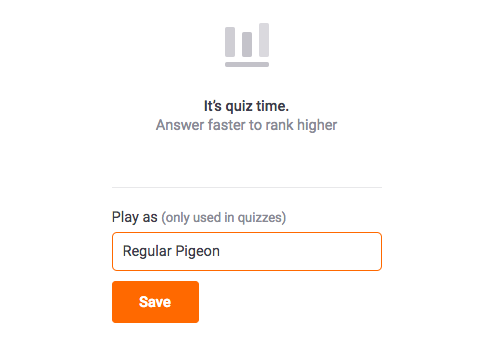 If a player chooses to play anonymously, only their "play as" name will be associated with the quiz score in the Excel export. 
2. If you uncheck anonymous responses under Advanced Settings when setting up, your audience will be required to sign in on the Audience Web App to join to the quiz.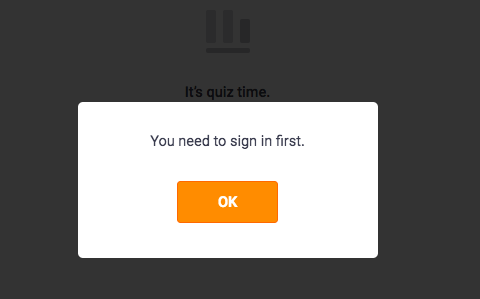 Once they click OK, they will be directed to the page below to fill in their details and sign in.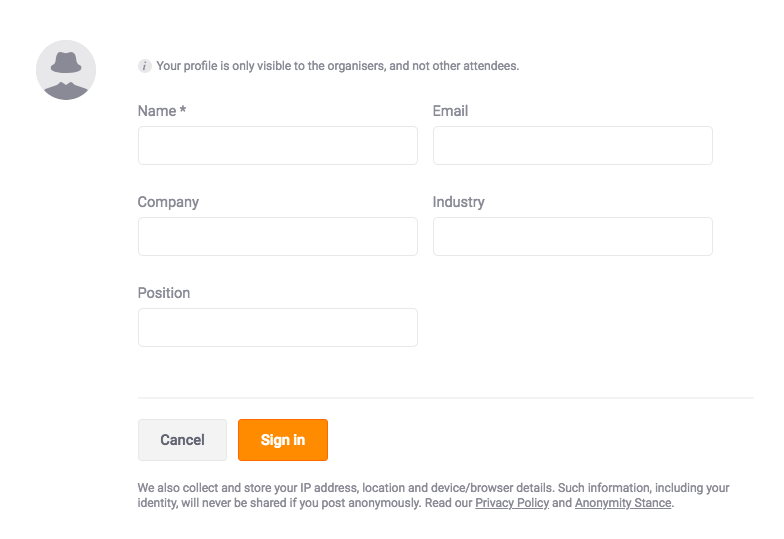 3. Your audience can join the quiz while it is in progress following the same procedures as above accordingly. They will start the quiz on the next question. 
Leaderboard Display
1. The quiz Leaderboard will display all players' rankings based on their performance after every question on the Admin Panel, Moderator Panel, Projector Panel and Audience Web App.  
2. On the Audience Web App, the player will also be notified of the number of ranks he/she rose or dropped from the previous question.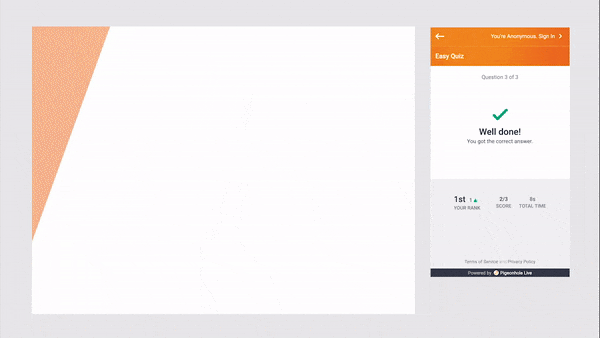 3. The final results displayed on the Projector Panel will only show the top 6 players.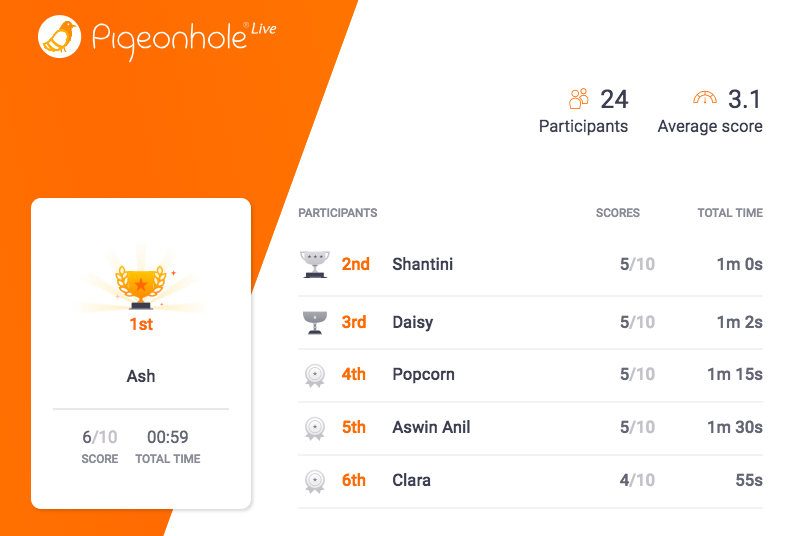 4. The final results displayed in the Audience Web App include the player's rank and the summary of the quiz session.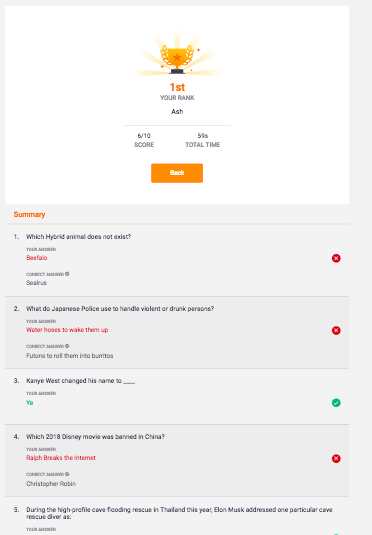 If a player joins the quiz but does not answer any question, his/her name will not appear on the Leaderboard.
Leaderboard Insights
1. You can view the Leaderboard for the top 6 players under Insights in your Workspace.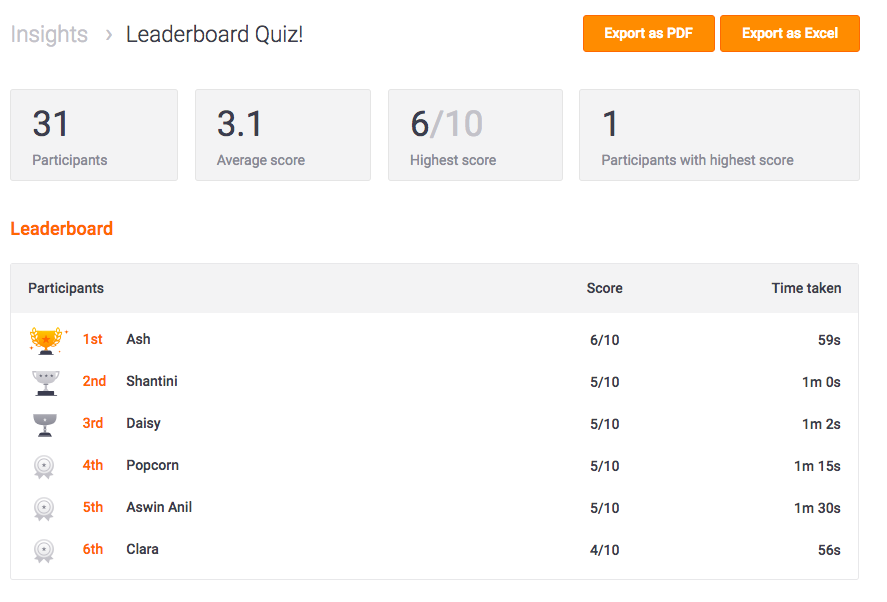 2. The PDF export also includes the complete Leaderboard statistics.