This article covers:
How to upgrade my Pigeonhole?

How to purchase Add-ons for my Pigeonhole?

How to make a payment?
How to Upgrade My Pigeonhole?
If you already have a Pigeonhole for your event but need to purchase additional Q&As, Polls, Surveys, or extend the duration, you can upgrade that Pigeonhole to fit your requirements.
1. Select the Pigeonhole you wish to upgrade from your Workspace.

2. Click Upgrade under the Pigeonhole name.

3. Choose the appropriate upgrade option for your Pigeonhole.
See more on Pigeonhole pricing plans.
4. If you don't need Add-ons for your Pigeonhole, check the order summary on the right.
Note: If you need Add-ons, learn how to purchase Add-ons.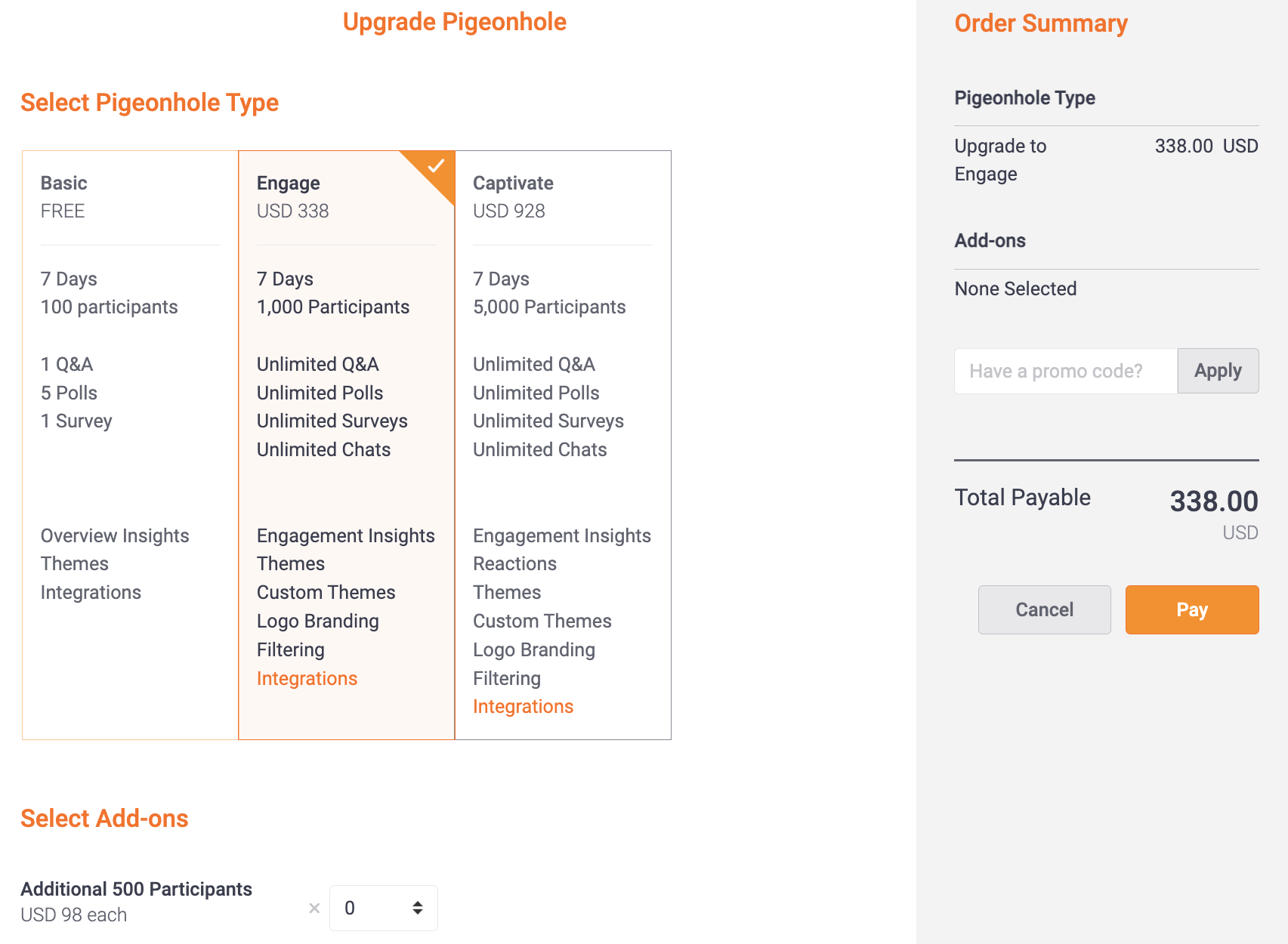 5. Once you've reviewed your order summary, click Pay to proceed to checkout. See how to make a payment.
How to Purchase Add-Ons for My Pigeonhole?
Depending on the type of Pigeonhole you have, you can purchase Add-ons for Q&A sessions and additional participants.
1. Available Pigeonhole Add-ons will appear below upgrade options.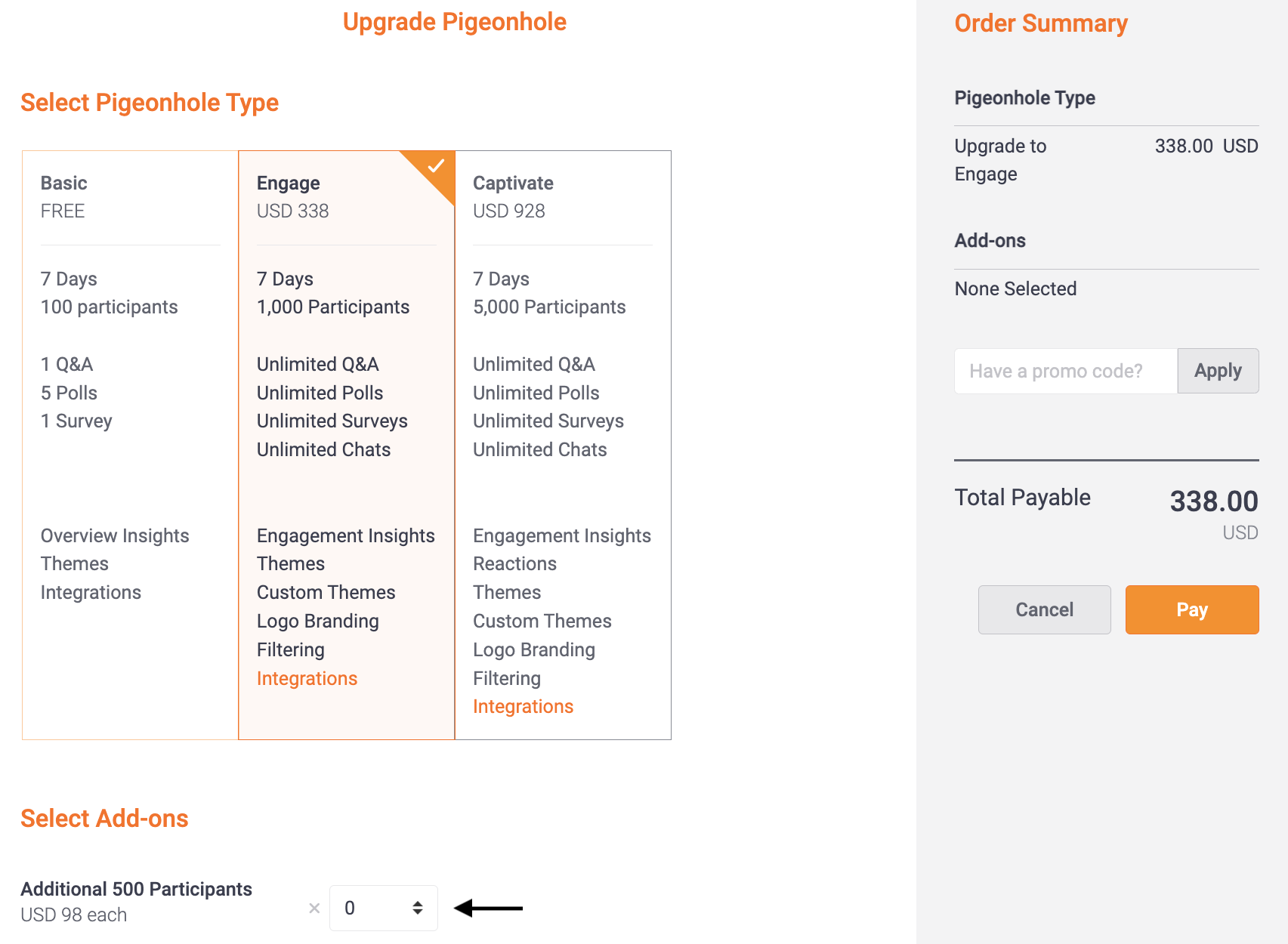 Note: Some Add-ons are not available during purchase—they require approval and can only be requested through a support request via the Help tab in your Workspace. Send a request when:
2. Once you've reviewed your order summary, click Pay to proceed to checkout. how to make a payment.

How to make payment?
1. Check your order summary. If you have a valid Promo Code, enter it and click Apply to obtain a discount on your purchase. More on using Promo Codes.
Then, click Pay.
2. Fill in your billing details. If you wish to make any changes to your order, click Edit Order, otherwise click Pay.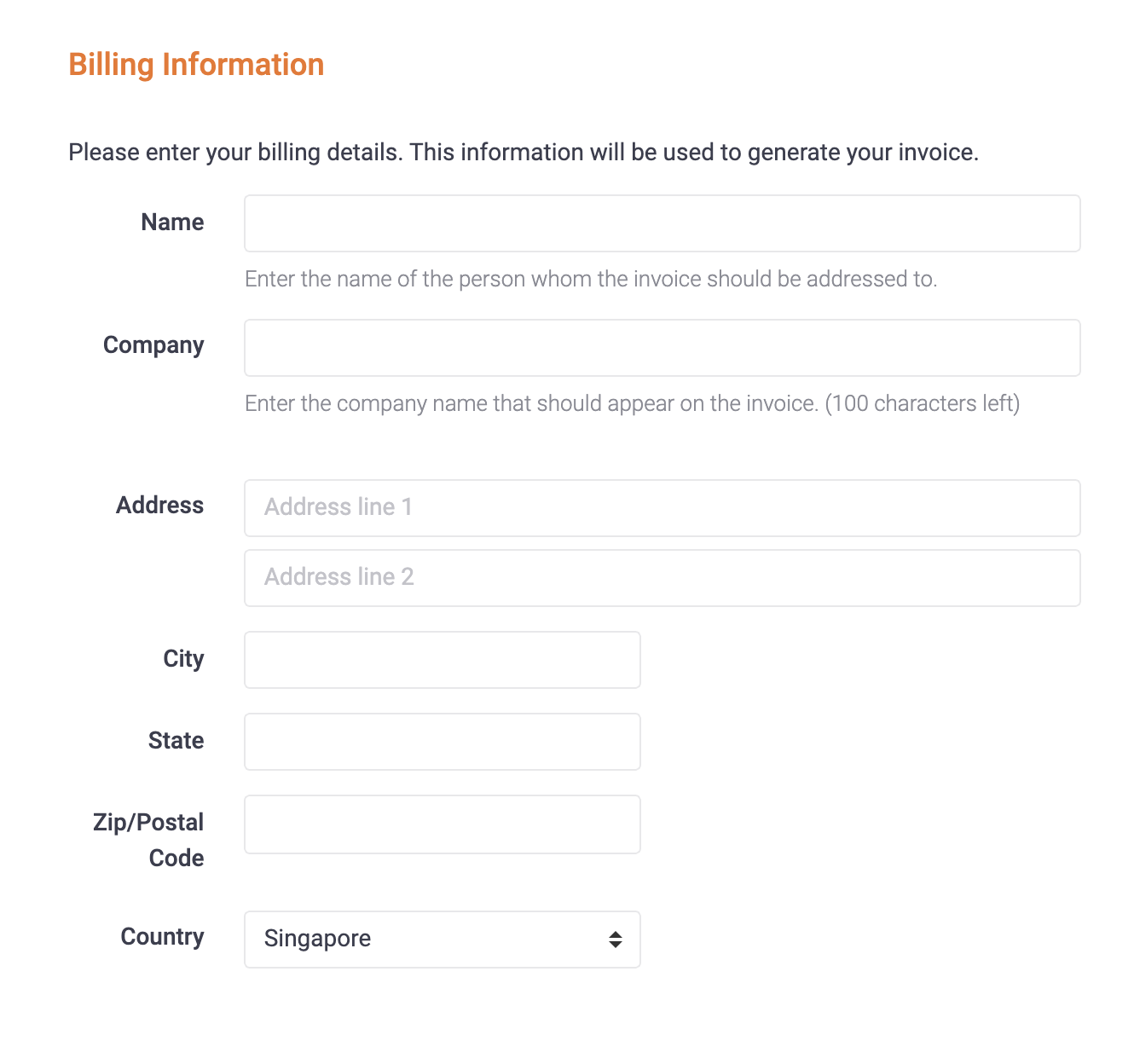 3. You will be asked to enter the necessary credit or debit card information. Click Pay to confirm payment, or Cancel to cancel your order.
Once the payment has been processed, your newly purchased upgrades/Add-ons will be reflected in your Pigeonhole. You can find the invoice for this purchase on the Plan and billing page.