Available for:
Manage
Engage
Captivate
Enterprise
This article covers:
How to add Socialive live broadcast videos to Pigeonhole Live?
How will a Socialive live broadcast video look on Pigeonhole Live?
If you host your live broadcasts on Socialive, you can easily add Socialive-hosted videos to Pigeonhole Live to create a seamless audience engagement experience for your attendees. This integration is only applicable for Q&A and Regular sessions.
* When using this integration, please ensure that you do not exceed the viewership limit imposed by Socialive. If the viewership capacity is exceeded, additional attendees will not be able to view the meeting video but can still participate in Pigeonhole Live sessions.
How to add Socialive live broadcast videos to Pigeonhole Live?
On Socialive:
1. Click on the profile icon at the top-right corner of the page and select Players.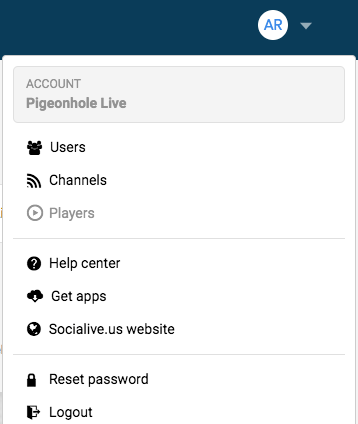 2. Click on the player you wish to add to Pigeonhole Live.
3. Copy the Player ID.
On Pigeonhole Live:
1. On your event Pigeonhole, go to More Settings> Integrations.
2. Scroll to find Socialive and select Integrate.
3. Paste the Player ID that you obtained from Socialive earlier and select Add Video.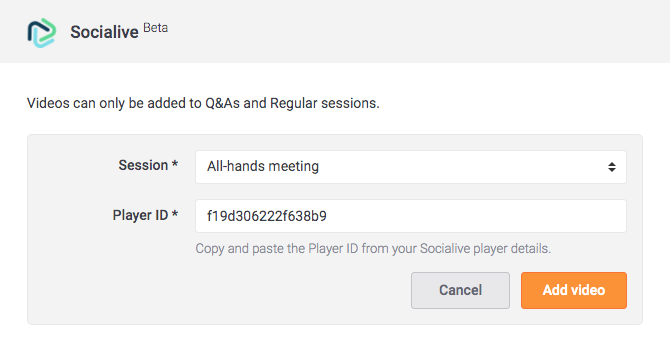 Tip: Use Test Mode to check out how your integration looks on the Audience Web App, from the perspective of your audience.
4. Run your broadcast on Socialive as per usual. Your audience will be able to view the meeting and submit and vote on questions on Pigeonhole Live within the same window.
Please note that this feature is in beta and is being actively worked on. We would love to hear your feedback on the feature as we continue to improve it. Drop a note to productteam@pigeonlab.com.