If you run events in different languages, you can now change your Pigeonhole Live display language. Pigeonhole Live is available in 20 languages:
العربية

(Arabic) - Beta

简体中文 (

Chinese, Simplified)

繁體中文 (Chinese, Traditional)

Dansk (Danish)

- Beta

Nederlands (Dutch)

- Beta

English

Français (

French)

Deutsch (German)

- Beta

Bahasa Indonesia (Indonesian)

Italiano (

Italian)

日本語 (

Japanese)

한국어 (

Korean)

- Beta

Bahasa Melayu (Malay)

Español (Spanish)

polski (Polish)

- Beta

Português do Brasil (Portuguese, Brazilian)

română (Romanian)

- Beta

Русский (Russian)

- Beta

ไทย (Thai)

- Beta

Tiếng Việt (Vietnamese)
To change your display language, go to your Workspace> Select a Pigeonhole> More Settings> Appearance. Scroll to the bottom of the page, to the section Language Setting. Click on the drop-down menu and select your preferred language, click Save.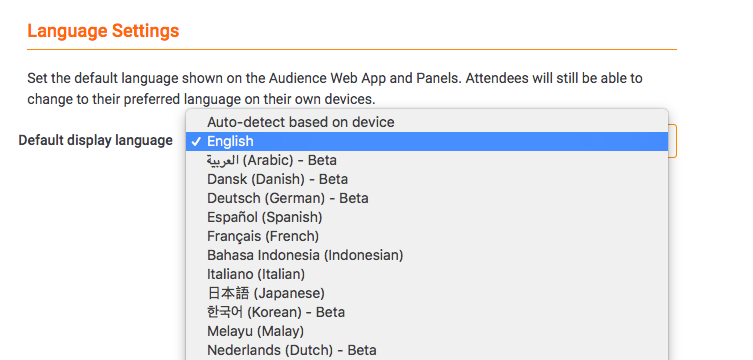 The default setting for the display language is "Auto-detect based on device" which would display Pigeonhole Live in the language that the attendee has set on their device.
Once you've changed the language from the default setting to a preferred language, all the instructions and guiding texts on the Pigeonhole Live Panels and the Audience Web App will be in the selected language. 
Audience changing the display language
Once you have a display language for your event, your audience can override the display language by changing it on their device. To do so, they can click the language at the bottom right of the Audience Web App> select their preferred language.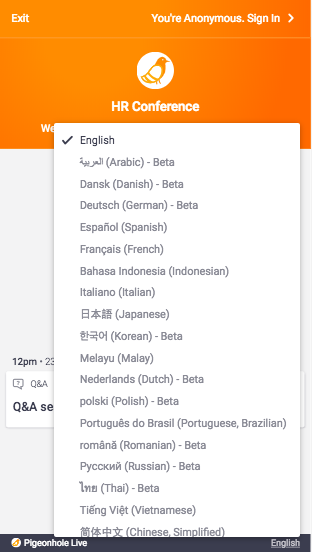 Note: Languages in Beta are being improved with more use and feedback from our users. If you have feedback on some of the translated texts, please reach out to us.
If your local language is not on the list, drop us a line! In the meantime, you can still run events in your local language as we support all language text inputs on our platform.