Available for:
Basic
Engage
Captivate
Pro
Business
Enterprise (Meetings)
Enterprise (Events)
For Pigeonhole events spanning a few days, you can add date tabs to the Audience Web App so that the sessions are sorted by date for your audience.
This makes navigating sessions within a particular date easier for your audience, so they don't have to scroll endlessly on the agenda to find a session.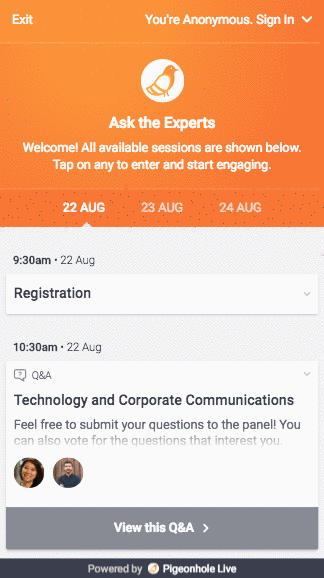 How to set up date tabs
In your Pigeonhole, go to Appearance on the sidebar.
Under Audience Web App Display, enable Show session by date.
Click Save!
Sessions will now be sorted automatically into date tabs according to their start dates.


Pro tip
While setting up, enable Test Mode and open the Audience Web App to preview what you've set up from your audience's perspective. Any changes you make will be reflected in real-time.