This article covers:
How to send messages in a chat?
How to send messages in a Live Chat session?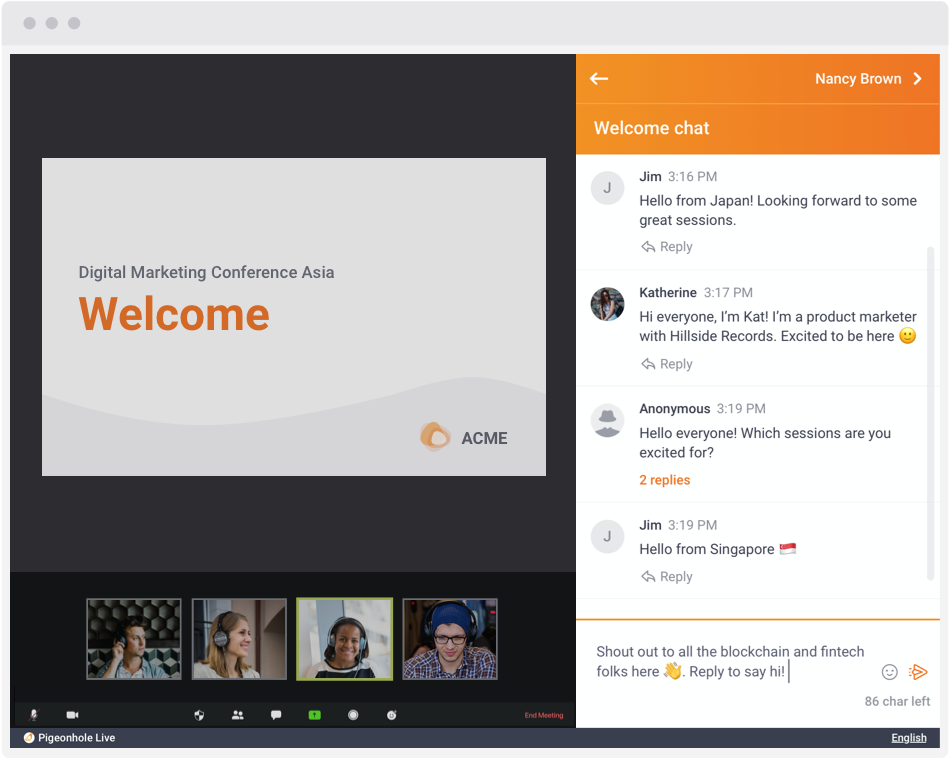 1. On the Audience Web App, attendees will be prompted to create a profile before being able to send a message. Select OK.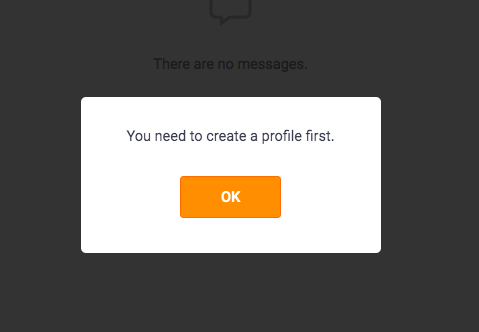 Note: If Anonymous messages is enabled when setting up, attendees can directly send a message without having to create a profile.
2. Attendees will be redirected to the profile information page. Once the attendee fills in the required fields and clicks Save, they will be redirected to the chat page.
Note: You may enable social login on your Workspace to allow attendees to import their social media profile picture and link when creating a profile. Learn how to enable social login here.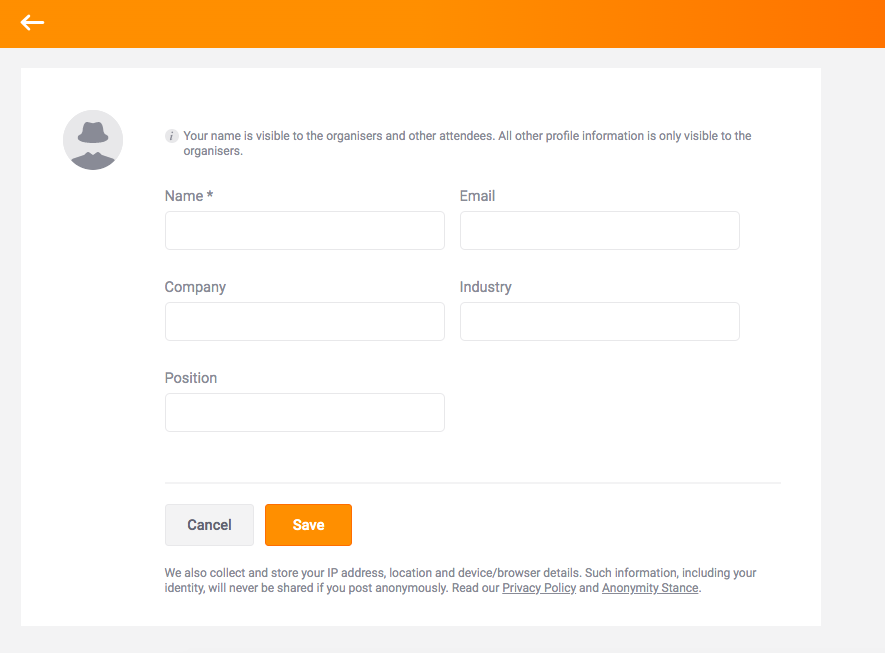 Note: Imported profile pictures may not render for users on Firefox if your browser settings enable Tracking Content.
3. Here, the attendee can click on the text box, type a message, and click on the arrow button on the right side of the text box to send a message. The message will appear on chat immediately.
If clickable links are enabled for the Chat session, links sent in messages and replies will be automatically converted into clickable links. Attendees who click on the links will be redirected to a new tab outside of the Audience Web App. Clickable links are disabled by default, refer to this article on how to enable clickable links in for your Chat sessions.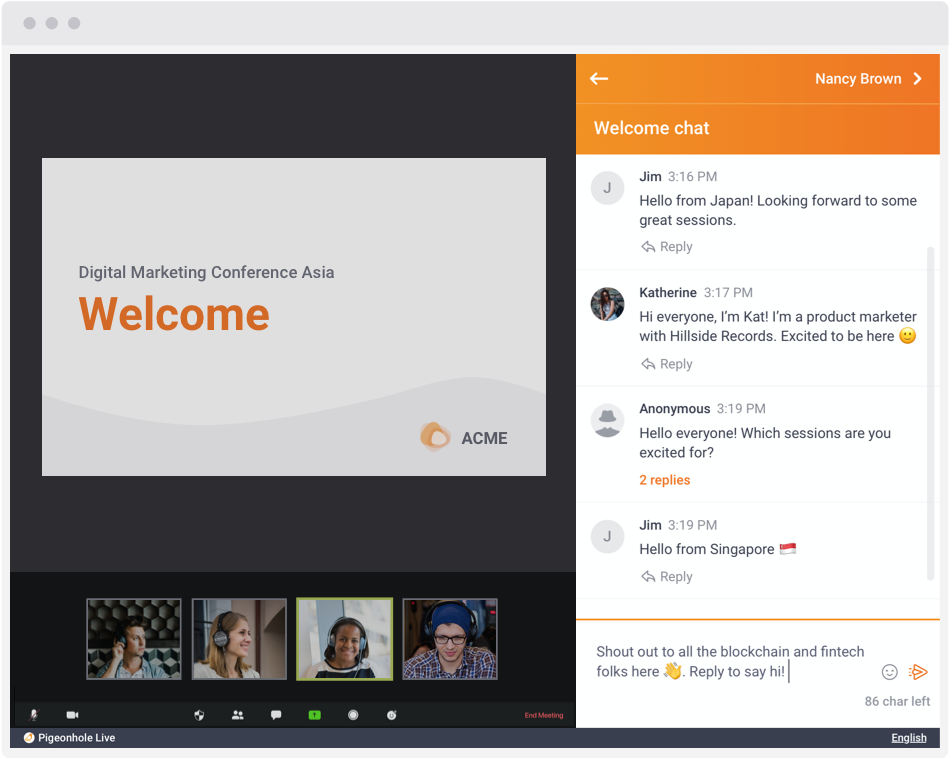 4. Attendees can also click on the emoji button to add emojis to the message.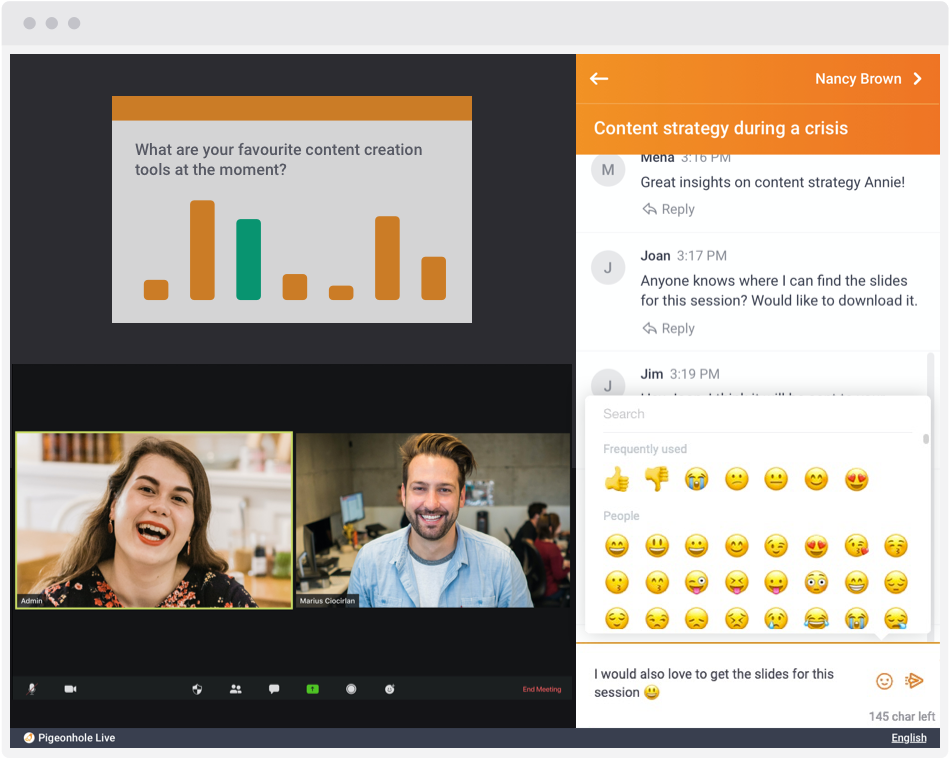 Note: Our emoji library currently features 635 emojis. We will be adding more emojis to our emoji library in the future to support the full range of emojis.
5. Attendees can easily reply to a message in a thread and view the entire thread directly from the main chat (as shown below.)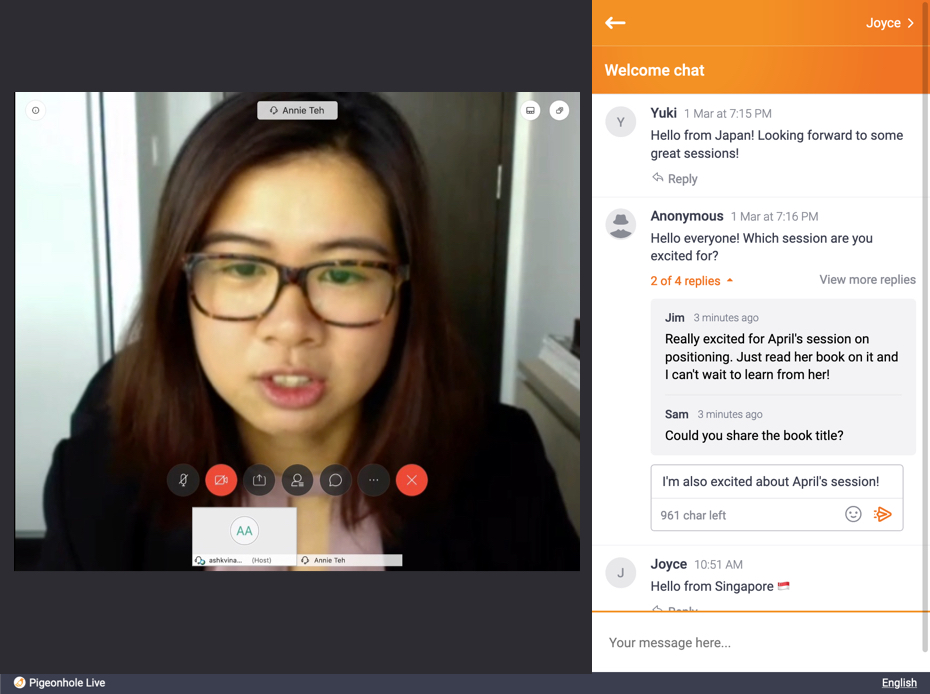 If Message filtering is enabled during setup, then attendees will be notified that their messages and replies are awaiting moderation. The message/reply will only appear on the chat after the admin Allows it on the Admin Panel.
6. Attendees can also mention each other by name in messages by using @name, to get their attention. Once the attendee types @ and the first 3 letters of the name they'd like to mention, a list of possible attendee profiles will appear in the drop-down for the attendee to select.
Note: Attendees can only use @name to mention attendees who have signed-in and added a name to their profile.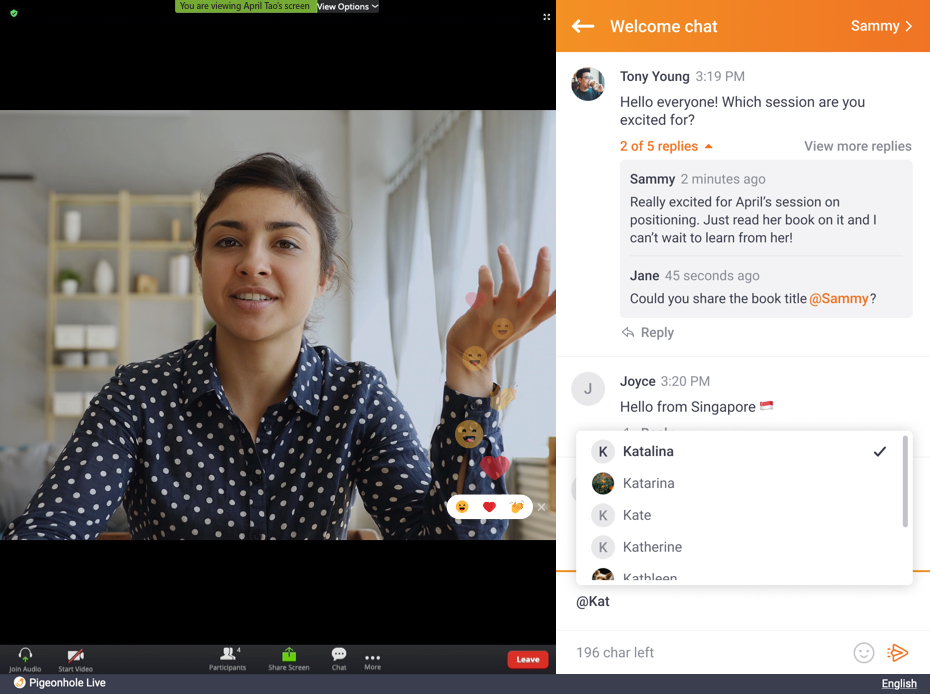 Mentions will not be included in the character count limit for messages. Attendees whose names have been mentioned in a message will receive a notification to scroll to the message, if they have not seen the message yet.
Mentions is enabled by default for all Pigeonholes. To disable mention during setup, refer to this article.
If you have any feedback on Live Chat, drop us a note at productteam@pigeonlab.com.