This article covers:
When to use Live Chat?

How to create a Chat?

How to view Chat insights?
When to use Live Chat?
Live Chat is perfect for powering free-flowing conversations between attendees during your virtual events. Attendees can send text and emoji messages and start a conversation thread by replying to individual messages.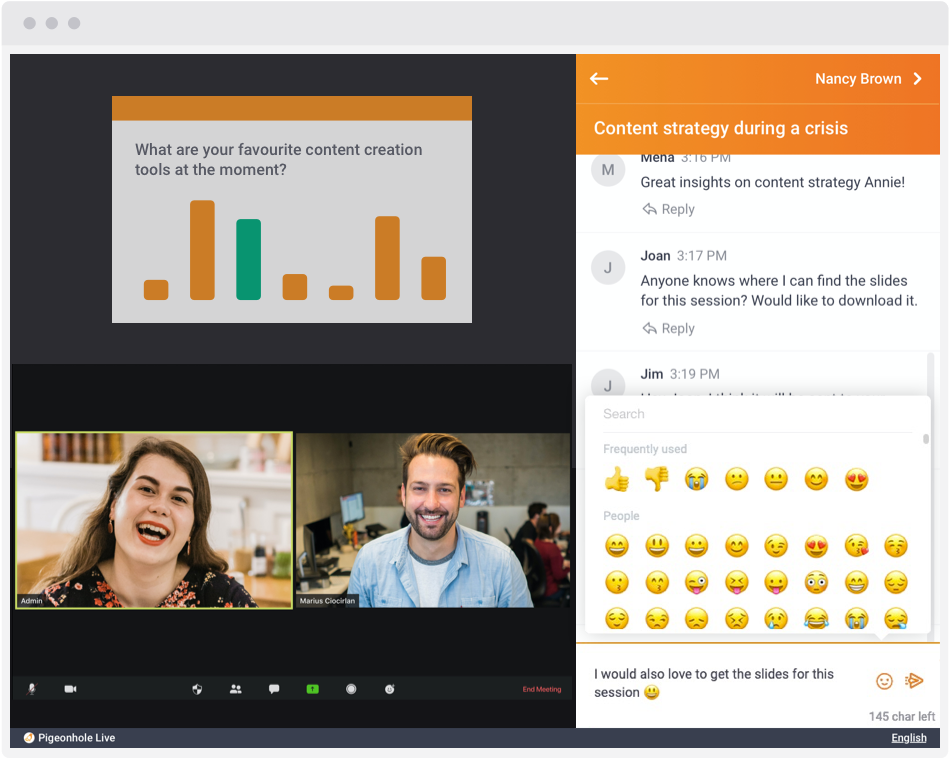 Note: Unlike other session types, Chat can only be accessed on the Audience Web App and Admin Panel. You will not be able to access Chat from the Moderator Panel or display it on the Projector Panel.
Learn more about how to send messages in a Live Chat here.
How to create a Chat?
1. Go to the Agenda in your Pigeonhole. Click on Add session and select Chat.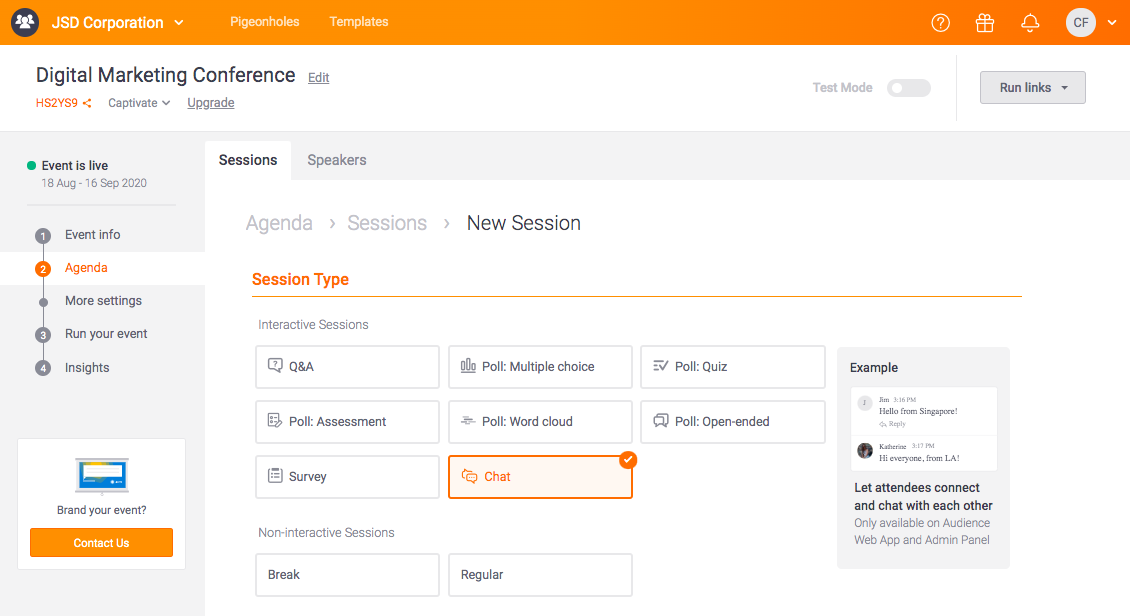 2. Add Chat Agenda information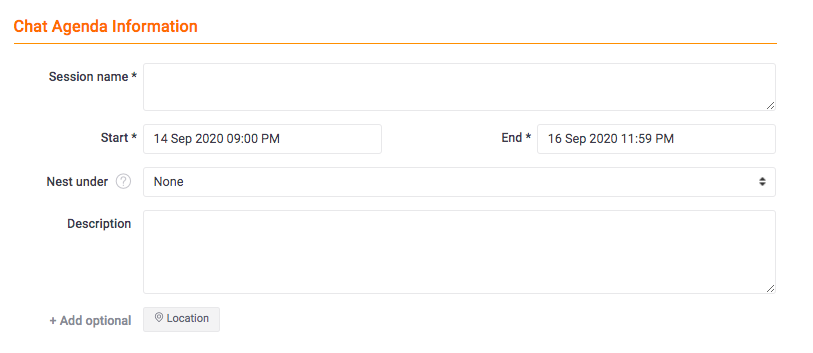 Name
This will be shown as the title of the Chat session on the agenda.
Start and End Time
Your session automatically goes live at the start time and closes at the end time. When a session is live, your attendees will be able to chat with each other.
Description
This is where you can share details about your session.
Nesting
You can nest your chat session under another session to group them together so that attendees can easily navigate to related sessions.
3. Manage your Chat settings

Anonymous messages
This setting is disabled by default. When disabled, attendees will be prompted to create a profile before participating in the chat. Their profile names and pictures (if imported) will be displayed next to the messages they send in the chat.
Refer to this article to set up profile information fields and enable social login.
If the setting is enabled, attendees can send messages in the chat without being identified. If you choose to enable Anonymous messages we recommend that you enable Message Filtering as well.
Message filtering
This setting is disabled by default. When disabled, messages sent by attendees will immediately appear on the Audience Web App.
When enabled, messages sent by attendees will first appear in the Admin Panel for moderation. Only after it is allowed by the admins, the messages will appear on the Audience Web App for everyone to see.
Replies
Enabling replies allows attendees to start a thread on a message by replying to that particular message.
Attendees can view Chat even after the session has ended
When enabled, attendees can continue to view the chat beyond the end time, but will not be able to send messages. When disabled, attendees cannot view the chat after the session end time.
Mention attendees
Mentions is a Pigeonhole wide setting that is enabled by default for all Chat sessions that you create in the Pigeonhole. When enabled, your attendees can mention each other by name in messages.
You can disable @mentions by going to More Settings> Chat. Uncheck the setting Allow attendees to use @name and click Save. This will effectively disable Mentions for all Chat sessions in your Pigeonhole.

Attendees can only use the mentions feature for attendees that have created a profile with a name. This includes attendees who are currently inactive in the chat. However, the notification for a mention will only appear if the attendee who has been mentioned has not viewed the most recent message in the chat.
When an attendee updates their profile name, all associated mentions will be updated with the new profile name. Event admins can add or edit mentions in a message in the Admin Panel.
4. Click
Add Chat
to save.
5. Test run your session.
To check or test your Chat session, you can enable Test Mode and open the Audience Web App to view it from the perspective of your audience, or practice message filtering as an admin with the Admin Panel.
How to view Chat Insights?
You can view session insights for Chat from the Insights tab on your Workspace. You can also download a comprehensive Excel sheet on all sent messages with the corresponding time stamp and sender name.
Note: There are no PDF reports for Chat sessions.
Refer to this article to learn how to send messages on chat in the Audience Web App.
If you have any feedback on Live Chat, drop us a note at productteam@pigeonlab.com.