When logged in to your Pigeonhole Live account, you can access the Billing page by clicking on drop-down menu on the top-left corner of the page.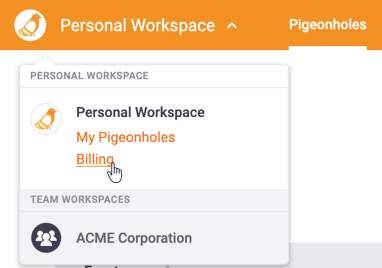 From the Billing page, you can keep track of your past purchase records and invoices, as well as view and manage pending orders. There are 3 transaction statuses on this page – Paid, Unpaid and Pending Approval.
Paid orders
All successful purchases that you have made are listed as paid. This includes custom orders that have been approved and paid for.
You may view the order and invoice information for each paid transaction by clicking on the "View" button, and download the purchase invoice by clicking on "Download Invoice" in the dropdown menu. It will be downloaded in PDF format.

Orders pending approval
Pigeonhole or Add-on purchase orders that require approval, i.e. orders that include Custom Branding or additional requests, are listed with this status. Learn more about requesting for Custom Branding and the purchase process.
While your orders are awaiting approval from our Account Managers, you can view or cancel your order by clicking on the respective buttons.

 Unpaid orders
Once your custom order has been approved by our Account Managers, your purchase order will change status from "Pending Approval" to "Unpaid". From here, you can make payment and proceed to use your new Pigeonhole or Add-ons by clicking on the "View and pay" button.

Alternatively, you can cancel your order at no charge if you wish to do so.