How do I make changes to my sessions?
To make changes to any sessions in your pigeonhole, go into your pigeonhole > Agenda, and click edit on the Session you want to edit.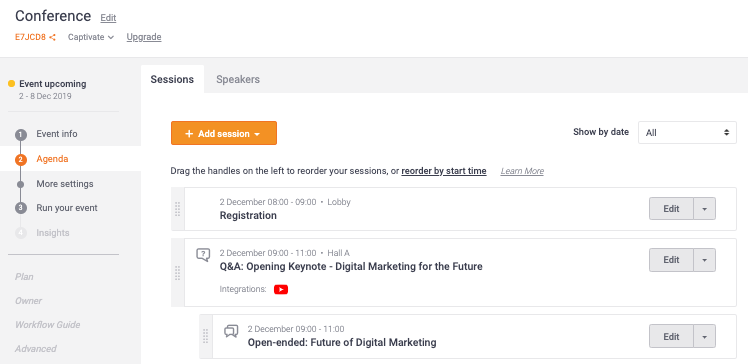 To understand how to edit Surveys, see Can I edit Surveys once it has started?
To understand how to edit your Agenda, see Can I reorder the sessions on my agenda?
Can I edit anything in my sessions, anytime?
In general, almost anything in your Pigeonhole can be changed, before or during your event. However, there are some restrictions to it.
Changing session timings
There are two restrictions when changing session timings:
If a session has already opened/started, you cannot change the start time. You also cannot set the start timing to be earlier than the current time.
If a session has ended, you can only extend the session to end at a later time. You also cannot set the end time to be earlier than the current time.
You can quickly change session timings through the session dropdown menu - Start, End, Change end time, Reopen - on the Agenda page, or by editing each session. The options available in the session dropdown menu depends on the session state.
Your session timing must also be within the duration of your Pigeonhole. If you need to keep a session open longer than the Pigeonhole duration, you can buy Additional Days when purchasing your Pigeonhole, or through Add-ons after you have purchased your Pigeonhole. See Purchasing a new Pigeonhole and Purchasing Add-ons.
Removing Sessions
If your event agenda changes and you need to remove sessions, you can only remove sessions that have not opened/started. Once a session opens or starts, there is no way to push back the start time.
To remove such sessions, the best way is to use the Hide function under the session drop-down menu on the Agenda page.