This article covers:
Team roles
Security with Teams
Additional Team features
How to add and remove team users?
Collaborate with your team to set up and manage events on Pigeonhole Live. Each team will have access to their own Team Workspace where you can invite other members and assign them roles with different access.
The Team feature is available on the Annual Event Plans (Annual Engage & Annual Captivate) and the Enterprise (Events) Plan.
Team Roles
There are three user access roles available on Team Pigeonholes: Team Owner, Team Lead and Team Member. The table below specifies access for each user role.
Team Owner

Team Lead
Team Member
Purchase, renew, upgrade, downgrade subscriptions
✔️

Upgrade Pigeonholes

✔️
✔️
✔️

Set up and manage all Pigeonholes

✔️
✔️
✔️

Modify Team Settings

(Team Name, Company, Profile Picture, Address)

✔️
✔️

Add/Remove Team Members

✔️
✔️

Assign Team Lead

✔️

Overall Security and Access

✔️
Security with Teams
Team also provides for increased security with the following features:
Email domain whitelist
As a Team Owner, you can specify and restrict the email domains that are allowed to join your Team Account.
Password Policies
Team Owners can also enforce password policies that control password reuse and the password validity period for your Team Members.
Additional security feature for Annual Captivate and Enterprise Plan
Customers on Annual Captivate or Enterprise Plans, can also choose to enable Team Single Sign-on for more uniform access control.
Additional Team Features
Team Pigeonholes also include features that are not available in per event Pigeonholes such as:
Archives
Move Pigeonholes that have ended to the archives for easier organisation
Templates
Use templates to recreate similar sessions and speaker details for your event series so you can save time
How to add and remove team users?
Only Team Owners and Team Leads will be able to add and remove team users.
Adding team users
In your Team Workspace, click on the drop-down on the top left corner of the page and select Workspace Settings.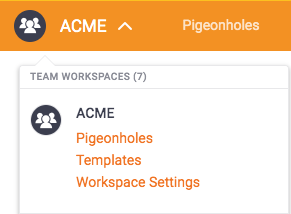 Under the Users section, you will be able to view the number of team licenses available. If you have available team licenses click on the Invite Users button to add team members.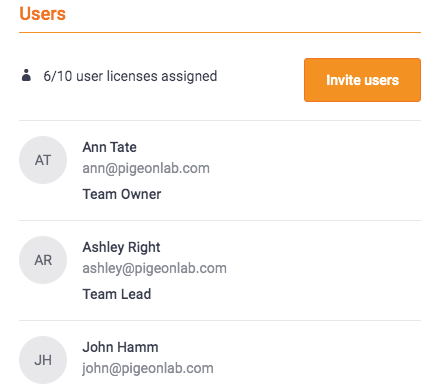 Then, enter the email address of the user you'd like to invite to your team and select Invite. An email invitation will be sent to the user.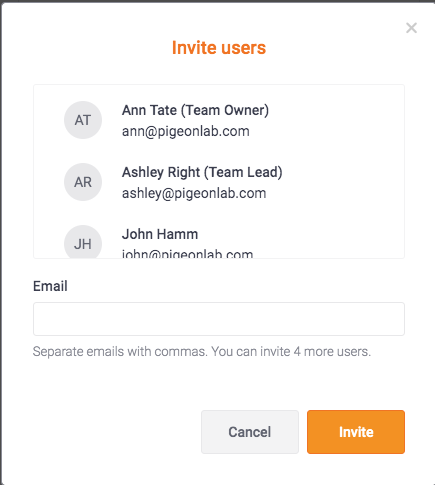 Removing team users
If you are a Team Owner or Team Lead, you will be able to remove team members by simply clicking on the remove button next to their name as shown below.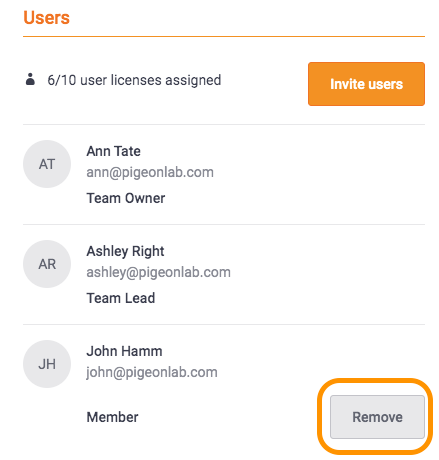 Team account users can continue to maintain their own private Pigeonholes in their personal account and manage them at their Personal Workspace. They can also join multiple teams and switch between team workspaces seamlessly.