Pigeonhole Live interactive Q&A allows attendees to post questions and vote on questions. When a question is being answered, it can be marked as active to (1) enlarge the question on the Projector Panel and (2) highlight the same question on the Audience Web App. When a question has been answered, it can be marked answered and this will be reflected in your reports.
In June 2017, we introduced Q&A Answer Ratings to collect attendee sentiments on how well a question was answered. Attendee satisfaction is key to continued engagement during the event as well as future events. Q&A Answer Ratings will help you better understand whether speakers are connecting well with attendees. We understand that such ratings can be controversial and sensitive, so answer ratings are not public. Answer ratings are only accessible by the organiser through the Insights in your Workspace. Attendees and speakers are unable to see the answer ratings.
Watch this video for a quick overview on how Q&A Answer Ratings work (55 seconds).
How does it work?
Answer ratings are only available to questions marked answered on the Admin Panel or Moderator Panel.
Answer rating prompts are only triggered for attendees who asked or voted for that question. Other attendees can choose to rate the answer by clicking on the "Rate answer" link.
Answer ratings are not public and only viewable on Insights in your Workspace.
Detailed answer ratings are available on the Excel reports.
Overall answer ratings are included in the PDF reports.
Answer ratings can be submitted anonymously or identified.
Rate answer on Audience Web App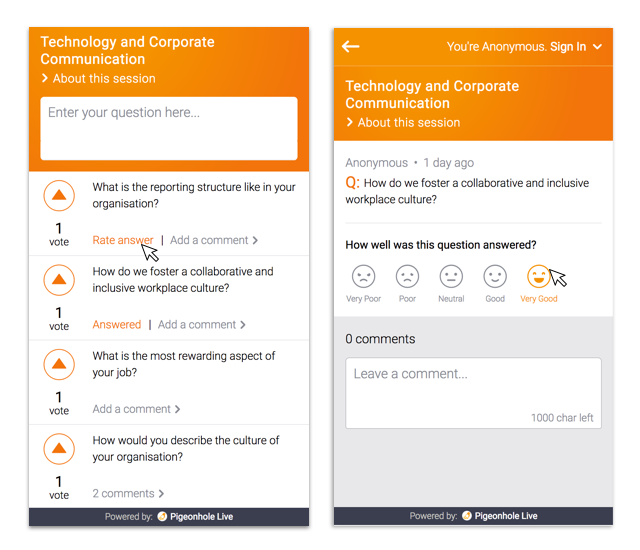 How do I start using it?
Just start marking questions as answered! From there, leave the rest to us. We'll prompt attendees to rate the answer. We also evaluating the up-take of this so for a start, we're not forcefully prompting attendees who asked or voted for the question to rate the answer.
Marked as Answered on Admin Panel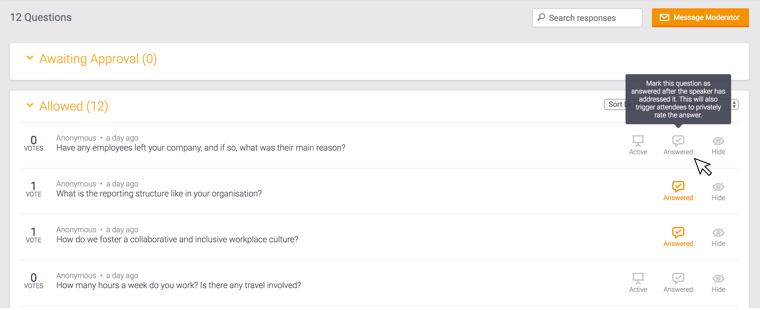 View Answer ratings under Insights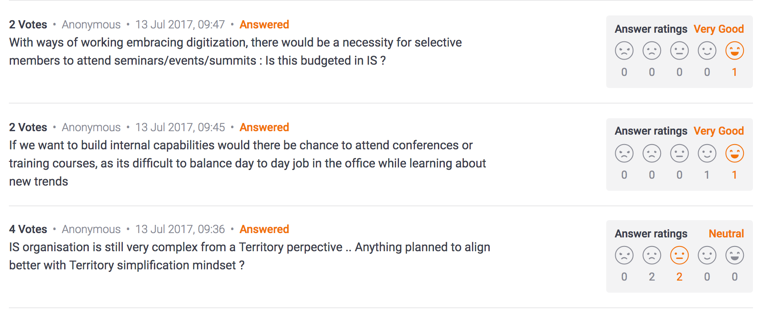 How do I disable it?
The only way is to not mark your questions as answered as there's no way to turn this feature off. Please tell us why you want to disable it over support. It'll help us improve this feature.